Digital program on 2 days + B2B meetings - Politics & finance, market dvpt, pitching, b2b-matching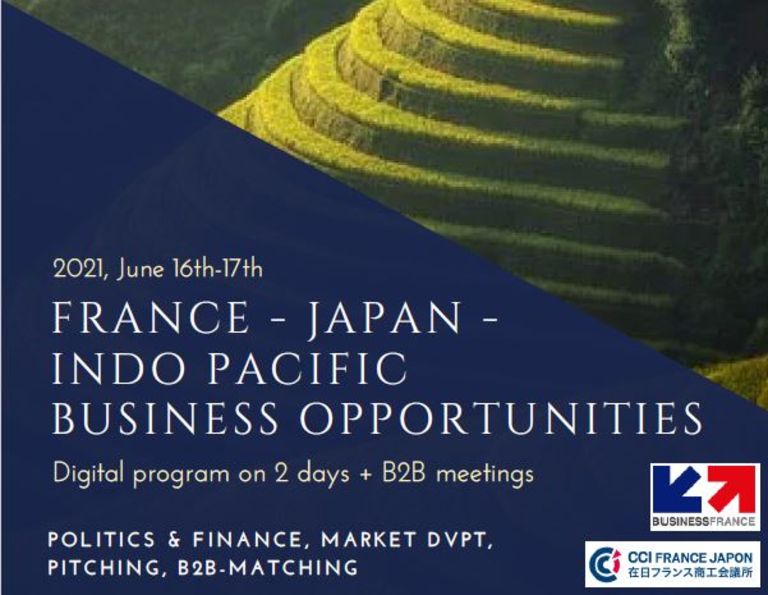 Event organised by Business France in collaboration with French Chamber of Commerce and Industry in Japan and supported by the French Chambers of APAC area.

Please register here :
https://docs.google.com/forms/d/e/1FAIpQLScfguyl1T7oYL6hRJq6X7wF4qIWQxO0lsieH3jZeswn3o9mQw/viewform?vc=0&c=0&w=1&flr=0
Access to full brochure :
https://www.ccifj.or.jp/business-dvpt/programme-2021/france-japan-indopacific-program.html
Market focus
Aware of the limitations of its domestic market, handicapped by aging and demographic decline, Japan's revitalization policy attaches great importance to the search for growth relays on foreign markets. The development of activities in Africa and the emerging economies of the Indo-Pacific aera, particularly in terms of infrastructure, is one of the priorities of Japanese policy.
Program
Day 1 - 2021, Wednesday June 16th - 03:00pm to 05:30pm (HK time)
ONLINE SEMINAR
Session on Japanese development policy in third countries
Presentation by JICA, JBIC, AFP and AfDB: Access to Official Development Assistance Policies
Presentation of financial (Japanese bank) and legal (law firm) aspects
Feedback from companies
Day 2 - 2021, Thursday June 17th - 03:00pm to 05:30pm (HK time)
ONLINE SEMINAR
Thematic pitch session (Infrastructures, environment, energy, etc.) for Japanese business houses / project leaders and French companies.
Presentation of the offer or needs or projects in third countries.
List of invited Japanese stakeholders:
- Pitching and attending to companies pitching: Itochu, Toyota Tsusho Corporation, Mitsubishi Corporation
- Attending to companies pitching: Marubeni, Sojitz Corporation, Mitsui Corporation
- To be confirmed: Sumitomo Corporation, Electricity & energy (TEPCO, INPEX, Jogmec, Tokyo Gas); Infrastructures (Shimizu Corp, Kajima Corp, Taisei Corp, Obayashi Corp, Takenaka Corp, JGC)
2021 June-July
ONLINE MEETINGS FOR SELECTED COMPANIES
Preparation meeting with our sector team
Training on Business manners in Japan
Individual BtoB online meetings targeted according to your specifications.
Pricing
Day 1 seminar only - 325 euros excl VAT
-Participation in the Franco-Japanese conference on partnerships in third countries on June 16th
-Business Guide in Japan (150 pages, PDF format in French)

Day 1 seminar + Day 2 pitching - 975 euros excl VAT
-Full content of day 1
-Participation in pitch sessions with Japanese companies on June 17th
Day 1 seminar + Day 2 pitching + B2B meetings - 1990 euros excl VAT
-Full content for days 1 and 2
-Japanization of your business offer and kick off meeting
-Training on Business manners in Japan
-BtoB personalized online meetings (from 2 to 4 meetings)
Extra services
Export Kit option : 1300 € HT excl VAT
Commercial support in Japanese for BtoB meetings

Registration
Before 31 May 2021
To be provided:
commercial brochure of your company
detailed presentation of your technologies (advantages, references, partners, history in Japan)