Our partners
A local engagement
The French Chamber enjoys strong relationships with a number of important local partners.
Constructive and regular dialogue with the HKSAR Government ensures that the Chamber remains an important actor in Hong Kong's business ecosystem.
The Chamber voices its opinions on Government policies and initiatives which concern its members through the Policy & Consultation Committee while also regularly welcoming Government officials to talk at events and committee meetings.
Collaboration with bodies such as Invest Hong Kong, Hong Kong Exchanges and Clearing Limited, Hong Kong General Chamber of Commerce and Intercham on events and networking also help to strengthen the ties between our business communities.
The Chamber likewise has close relationships with the various French institutions in Hong Kong including the Consulate General of France in Hong Kong and Macau, and Business France, to ensure full representation of the city's French community which is today one of the most prominent in Asia.
Today, the Chamber is Team France Export-Hong Kong's official partner.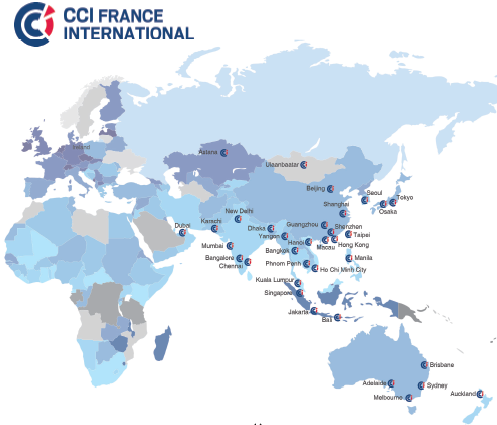 A regional platform
Over 20 establishments make up the network of French Chambers in the Asia region. This makes the Chamber a prime access point and a launch-pad for expansion across the region.
The Chamber communicates closely with this network, meeting its counterparts throughout the year to explore avenues for mutual collaboration and referring members who are looking to enter other markets. French Chamber members are also able to benefit from hot-desk access in the various business centres across the regional network while on overseas business trips.