Analyses & Studies • Sectors & markets • Foresight • Publications
HongKongEcho: A new vision for research in Hong Kong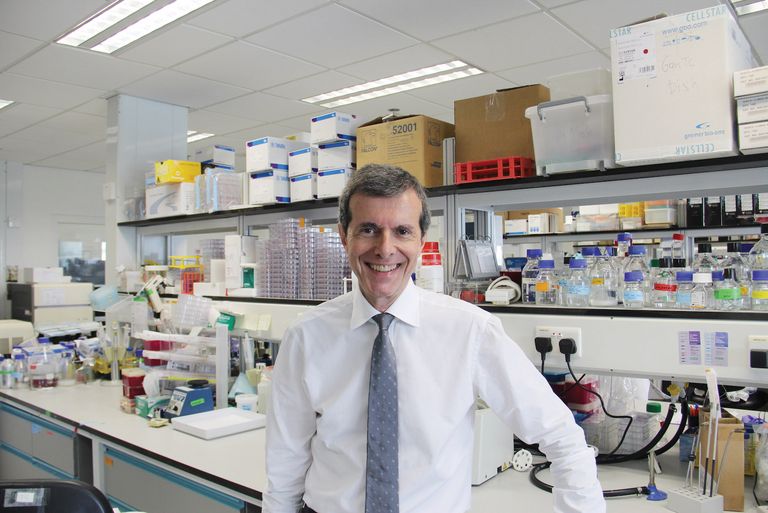 Support for research in Hong Kong has long been sidelined. But a new injection of funds and vision is a game-changer says Roberto Bruzonne from the trailblazing Institut Pasteur outpost in Hong Kong.
---
Roberto Bruzzone's swift introduction to his team of student researchers sounds more like the roll call from a major summit of foreign dignitaries than a laboratory. Malaysia, Singapore, France, Australia, Portugal, Hong Kong, England – that's only about half the nation's that are represented in the nimble team of 30.
It's clearly a winning formula for the French institution with over 100 years of heritage, numerous Nobel Prize winners amongst its alumni and a presence in 26 countries worldwide.
An Italian himself, Roberto leads Institut Pasteur's Hong Kong research laboratory – a collaboration formed in 2000 with the University in Hong Kong (HKU). Today it's firmly integrated into the university's Pok Fu Lam campus, a stone's-throw from Queen Mary Hospital.
Specialising in infectious diseases, the laboratory's aim is to advance 'basic research'; the fundamentals of how and why viruses form and work their way through the cells they infect.
"The international flavour we have in the laboratory is quite unique," he says with a friendly glance towards two students pipetting something-or-other. "The expectation for results is always very high, but we also like to give the team freedom to explore in their research – that's where you can make interesting progress."
Searching and researching
The slow, eternal grind of basic research may not grab the headlines – but its value as a fundamental element of good healthcare is critical.
"SARS was a big turning point for the realisation of governments worldwide that infectious diseases could have such a major, and deadly, impact. It's also a very good example of the role basic research plays," says Roberto.
HKU researches were the first to discover the virus responsible for SARS, the SARS coronavirus, which helped to contain its spread shortly after the initial outbreak in 2003. "What needs to be remembered," he explains in his methodical, precise tone, "is that this was only possible because there had been a team working for years on advancing the basic understanding of respiratory diseases and how such 'unknowns' might develop. It doesn't just happen overnight."
But investment in such research has not always been a given in Hong Kong.
New directions
"Hong Kong has always had a free market approach to research. If you were good, somehow you'd manage to find your way to the right funding and talent. That's good to an extent, but it's not enough."
Hong Kong's Research Grants Committee – the body which allocates funding to basic research in universities – is only 30 years old. "That's quite remarkable really," says Roberto, pointing to the city's already strong research in such fields as chemistry, genetics and developmental biology. "There is not a century-long tradition of research here. Hong Kong has done extremely well in such a short time frame."
Now a greater focus on supporting local institutions and connecting them with recognised international actors is starting to take shape. The most notable incarnation of this is a proposed Health@Inno Cluster – an initiative to establish Hong Kong as a centre of biomedical innovation and technology announced as part of a HK$10 billion injection in the research sector.
Institut Pasteur itself signed a Memorandum of Understanding with Hong Kong during Chief Executive Carrie Lam's inaugural visit to Paris early in 2018 to launch a joint research centre under this initiative at the Hong Kong Science & Technology Park.
In their sights will be such ambitious assignments as The Healthy Human Global Project (a human immunology study to improve the effectiveness and efficiency of future public health initiatives) as well as the creation of technologies surrounding the preparedness and response to emerging and re-emerging viruses, immune therapies for viral infections, and vaccine development.
"It's not just about the money – this is about bringing local and international partners closer together in a productive environment. This is what can give rise to greater job opportunities and what we could call 'products' that could be of benefit to the wider society. Let's not forget, ultimately our everyday antibiotics are also a 'product' of research."
Pure financial investment remains important though. Without it Hong Kong will lose out to regional competitors according to Roberto. "Singapore is investing heavily. Of course there's plenty of money across the border, even in Shenzhen. You don't even need to go to the hubs of Shanghai and Beijing."
Hong Kong remains a far more international place than China, says Roberto. But more could be made of it. Institut Pasteur and the newly-arrived Karolinska Institutet (a Swedish centre of medical academic research) are the only two international institutions with physical laboratories in the city. "It's not enough. We should be aiming for 10-15 of them."
"That being said," Roberto continues, "Our ability to welcome students and professors alike from all corners of the world sets us apart. On top of that, you have three of the top 100 universities in the world located in such close proximity. This is a huge asset that few cities can boast."