Our members' events
Discover a range of events on offer from our members
This dedicated portal offers our members a platform to showcase their upcoming events to the wider community.
France Alumni Day Talent Fair
The Consulate General of France in Hong Kong and Macau, Campus France Hong Kong and the French Alumni Association are happy to announce the launch of the France Alumni Talent Day in Hong Kong. The event is part of the worldwide French Alumni Day where alumni all around the world who studied in France are celebrated.
French businesses in Hong Kong are invited to participate in the Talent Day and talk to the local audience about French businesses' activities in Hong Kong and also employment opportunities after studies in France or internship opportunities while studying in France. A networking cocktail session will be held alongside.
The Talent Day will also include around 15+ booths where professionals from all fields (business, art, culture, gastronomy, science…) will showcase their expertise and talent. Current and former laureates of the French Government Scholarship scheme will be invited to share their experience in France. Three 30-minute panel discussions will also be held to allow for an exchange of ideas on how France enhance one's career path.
The details are as follows:
Date: 27th May, 2023
Venue: The Fringe club, Central
Application Deadline: 2nd May, 2023
Please send your application to: campus-france.hong-kong-cslt(@)diplomatie.gouv.fr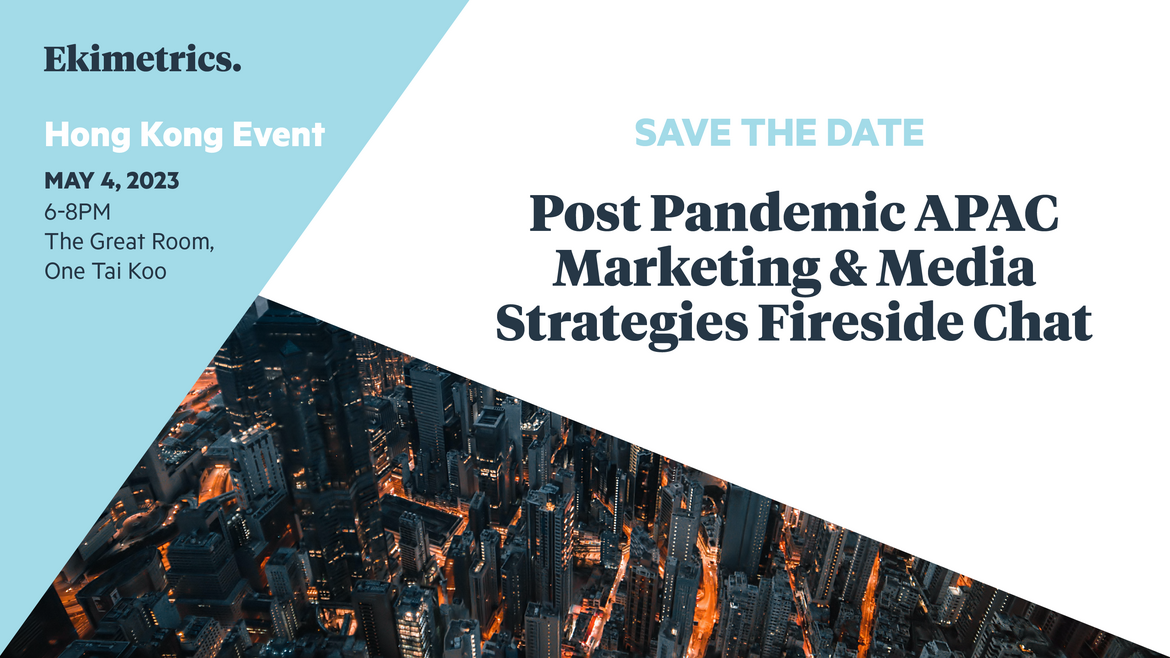 Marketing leaders have long focused on improving the efficiency and measurement of media investment. Over the past 3 years, COVID-19 has accelerated a shift in marketing spend from offline to online channels to keep up with consumers.
As the pandemic recedes, marketers face new questions about how to plan media and marketing in a post-COVID era, and what to expect in terms of return on investment.
Join Ekimetrics and esteemed partners, including DDB, Meta, TheTradeDesk, Mediacom for an insightful fireside chat on how leading global brands are investing in and leveraging data for their marketing efforts. The session will provide valuable insights into the learnings and priorities of these organizations, as well as benchmarks on spend and ROI for the Asia Pacific region.
Data, Insights, drinks & finger food will be served!

The event is exclusive so do RVSP your seat here.
La Fête du Champagne Hong Kong 2023 at The Rosewood on Thursday 15th June 2023 - Full Table
Date: Thursday 15 June 2023
Time: Tasting from 6 to 7:30pm followed by the dinner
Venue: The Rosewood at La Gallery (Level 3)
Number of guests: 120 (10 tables of 12 people)
Usual Price: HK$2,990 per pax
Full Table Price: HK$2,690 per pax
All guests need to bring a bottle of Champagne to share at the dinner!

More details and registrations here.

The Breath of Light | Sun Young Min | 05.05.2023 - 04.08.2023
Baseline Gallery is happy to present The Breath of Light, an exclusive exhibition by the Korean artist Sun Young Min. This new series of paintings is the artist's second collection related to Hong Kong. It is inspired by her experience since landing in Hong Kong in 2016 after ten years in Paris and relates how her vision of the lush city has evolved over the years. Visit The Breath of Light and explore Hong Kong through the eyes of Sun Young Min.
FREE ADMISSION – BY APPOINTMENT - REGISTER HERE
Unit D, 10/F, Joint Venture Ind. Bldg., 76 Hung To Road, Kwun Tong, Kowloon
MTR Kwun Tong (Exit B)
Past events from our members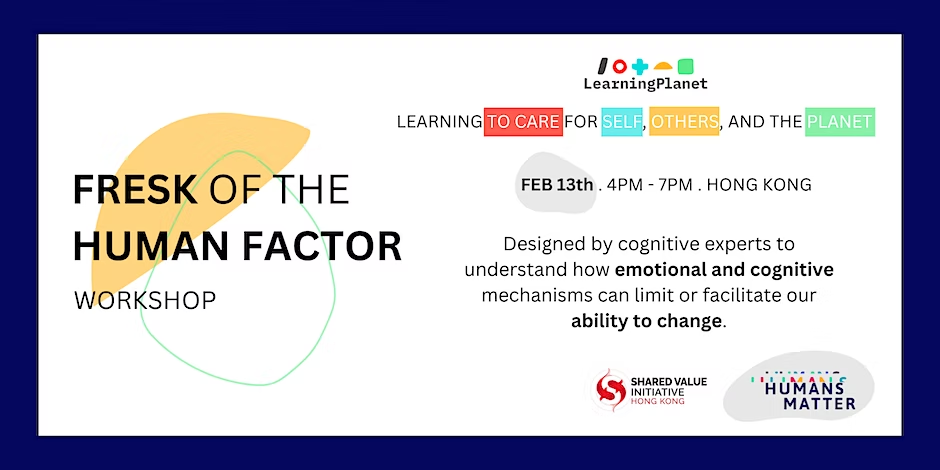 The next Human Factor Fresk event is happening on Monday, February 13th organised by Humans Matter and Shared Value Initiative HK.
Come experience this collaborative workshop to develop individual & collective ability to act by uncovering the human factors that impact us, limiting or enabling us to adopt new desirable behaviors.
What to expect? A 3 hours collaborative workshop built around a tangible behaviour the group wants to adopt. Guided by an experienced facilitator, we will reflect together, highlight and understand the impact of the human factors like emotions, cognitive biases, beliefs, representation, social norms, etc... that block us when facing a need to change our behaviour.
Where & When ? 13th of February from 4 to 7pm, at the Hive in Sheung Wan.
Register here.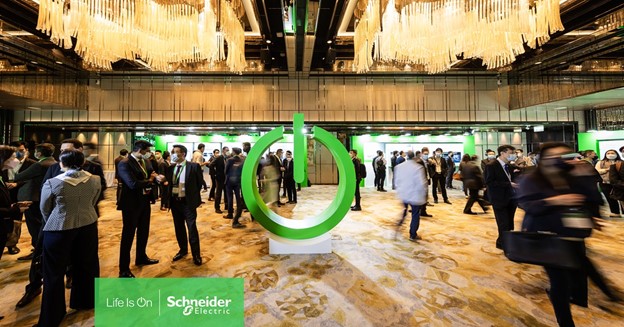 Schneider Electric successfully hosted productive dialogues on empowering an all-digital and all-electric world during Innovation Summit Hong Kong 2022 in November. Engaging over 500 industry leaders, partners, customers and colleagues, the event tackled the latest digital transformation opportunities through keynotes, executive talks, a CEO panel, and expert learning sessions.
At the event, Schneider Electric also showcased its latest technologies built for advancing a more sustainable, efficient and resilient future.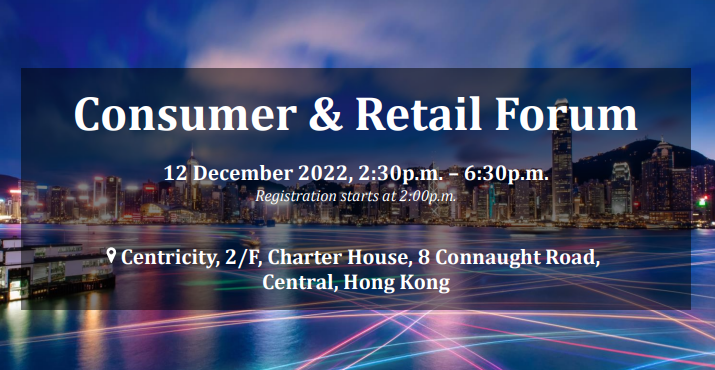 The COVID pandemic challenged the way people live and conduct business. As the world continues to re-open, many consumer & retail practitioners find themselves facing different challenges and opportunities from the pre-COVID era.
BDA Partners and Roland Berger as investment banking and consulting experts, respectively, jointly organize this private forum for industry experts from both the investment and the corporate communities to exchange and share their view and experience on the latest sector trends. The forum will cover the following topics:
1. Latest consumer & retail insights
2. APAC consumer & retail M&A activities
3. Panel discussions:
• Supply chain: navigating challenges, opportunities, and trends
• ESG: the rise of the conscious consumers and investors
• Retail vs e-tail: transformation of consumer experience
We warmly welcome you join us at the forum, and to interact with top professionals from leading consumer goods companies and reputable investment institutions in person.
RSVP here or contact us at stephanie.frossard (at) fccihk.com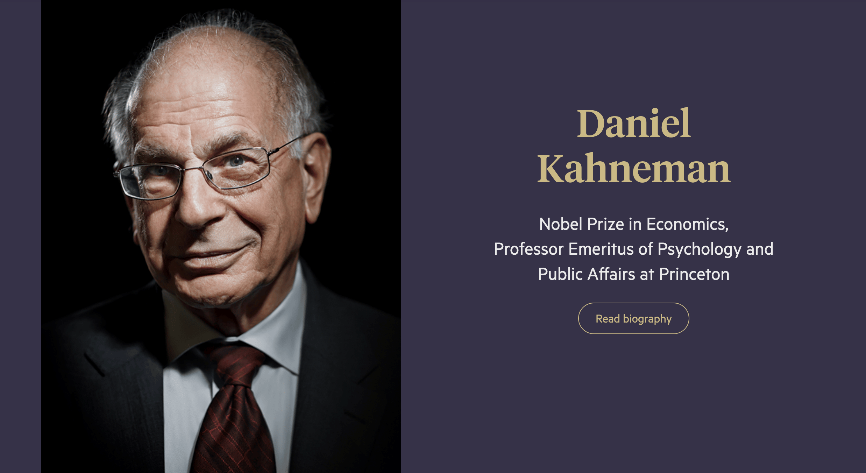 Ekimetrics would like to extend our invitation to the community of French Chamber Of Commerce to the new edition of Eki.Vision on Thursday, December 8, 2022 at 6pm (Hong Kong time), online.
We will bring you debates, scientific points of view and fresh perspectives from world-renowned speakers on AI's role in sustainable business transformation.
You will be able to find, among others, the enriching point of view of: Daniel Kahneman, Nobel Prize of Economics and author of the international bestseller Thinking, Fast and Slow.
We do believe that this is a very interesting topic for the business leaders for your community.
Register now to think together about tomorrow's AI and the business challenges that data science must support today.
November 23 - InvestHK: Jiangsu – Hong Kong Cooperation: 'Seizing New Investment Opportunities in Green Economy' Symposium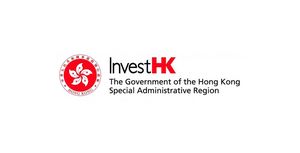 Invest Hong Kong invites you to this high level symposium looking at the opportunities for Jiangsu-Hong Kong cooperation with regards to the green economy.
8 November 2022 - Schneider Electric Innovation Summit Hong Kong 2022
On November 8, 2022, Schneider Electric is bringing together seasoned thought leaders at Innovation Summit Hong Kong 2022 to foster collaboration towards an all-electric, all-digital world. Businesses will learn how to harness sustainable energy through Keynotes and Executive Insights, as well as leverage innovations towards a carbon neutral Hong Kong through an all-star CEO Panel and Expert Learning Sessions. Inspiring digital transformation, the event will also showcase Schneider Electric's latest smart energy solutions.
Find out more and register here
29-30 October 2022 - Beneteau Cup Hong Kong 2022
The two-day sailing regatta is set to take place from 29 to 30 October, organized with the support of Aberdeen Boat Club. Expect fun island racing on the first day, a gala dinner with the theme of Pirates of the Caribbean to celebrate Halloween, attractive prizes and awards, a pursuit race on the second day, and an epic farewell sunset party in The Bay Restaurant on Lamma Island.
5 September 2022 / 31 January 2023 - A men's rings collecting journey from Yves Gastou
Standing today as a testament to an extraordinary quest, L'ÉCOLE Asia Pacific, School of Jewelry Arts, unveils an unprecedented collection of Men's Rings. This selection of over 300 rings embodies the 40-year passion of a man: the late French connoisseur and reputable art dealer, Yves Gastou.
Visitors are invited to witness the vast geographical and temporal span: from the 17th century Venice doge rings to the 1970s American biker rings, from skull rings to bishop's rings. These objects delight the eye with their intense beauty, enlighten the mind with their myriad functions and surprise by their eclecticism. They are witness of travels, symbols of power and spirituality.