Join this co-hosted event in person to better understand the new EU trade policy and its potential political engagements relevant to businesses.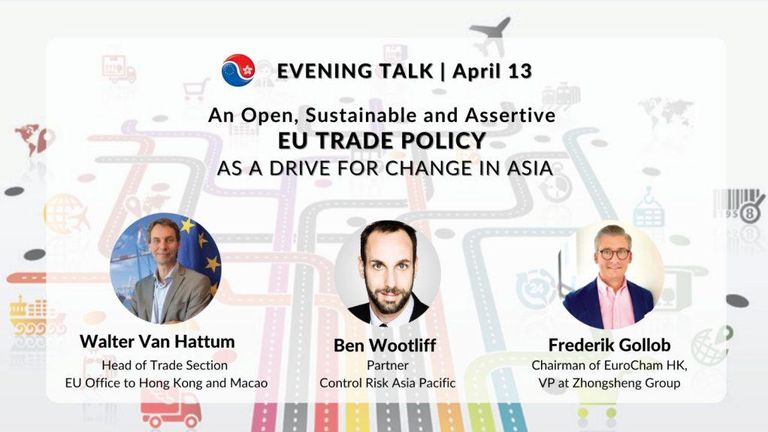 Why is the European Union producing a new trade strategy? How will the trade policy contribute to improved EU-China relations? In what way(s) is this an open, sustainable and assertive trade strategy? What would this mean for companies seeking to enter the Chinese and Hong Kong market?
The EU has recently announced the implementation of a new trade strategy aiming to address the challenges we currently face: the economic recovery, climate change and environmental degradation, growing international tensions, greater recourse to unilateralism, and its consequences for multilateral institutions. The new trade policy intends to increase economic relations with Africa, Latin American and Asia-Pacific, acknowledging that 85% of global growth over the next decade, will occur outside of Europe.
In this evening session, we will begin with the Head of Trade of the European Union Office to Hong Kong and Macao, Walter Van Hattum, setting the scene and outlining the basics of the new EU trade policy. The presentation will be followed by a Q&A session joined by Ben Wootliff, Partner at Control Risks, who will ground the discussion in Asia, focusing on potential political engagements relevant to businesses.
The Q&A will be moderated by Frederik Gollob, Chairman of EuroCham Hong Kong.
We strongly welcome and appreciate questions on the subject from the attendees prior to the event's date – to be sent via email to Steffen at steffen.clausen@eurocham.com.hk on or before April 8th. If suitable questions, these will be raised by the Moderator and answered by the Speakers in the Q&A.
The discussion will be followed by an in-person networking session with complimentary wine.
Schedule
Tuesday 13 April 2021

| | |
| --- | --- |
| 18:00 - 19:00 | Presentation and Q&A |
| 19:00 - 19:30 | Networking |