This online summit will bring together exceptional guests for insights on the growth opportunities in Africa.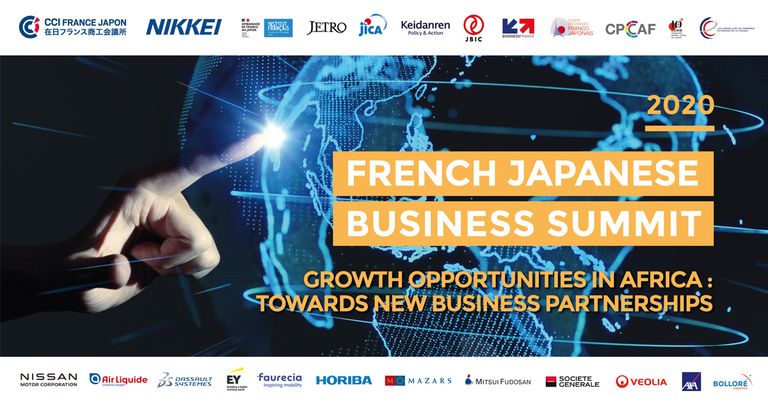 Organised by the Chamber of Commerce and Industry France Japon (CCI France Japon) and the French Embassy in Japan, French Japanese Business Summit is a major summit dedicated to the French-Japanese business community.
"Growth Opportunities in Africa : Towards New Business Partnerships"
Following the success of the 2018 and 2019 editions, with an average of 700 delegates and 35 speakers per edition, this summit will once again bring together exceptional guests who will give their insights in front of an audience of business and opinion leaders, journalists as well as officials.
This event will be presential and live broadcasted. During this day, plenary sessions and conferences designed to highlight Japanese French and Afrian and African collaboration and expertise.
PROGRAMME:
• OPENING CEREMONY
• INTRODUCING AFRICA – Global Overview
• INVESTING IN AFRICA – Needs and Strategies
• EVOLVING NEW PERSPECTIVES AND APPROACHES FOR AFRICA
• FOCUS ON GEOGRAPHIES & MARKETS – Potential Areas of Growth and Cooperation
• ILLUSTRATIONS BY SUBSECTORS – Trends and opportunities
• TECHNOLOGIES AND INNOVATION – The Future is Now!
• ACCESS TO CARE IN AFRICA – leveraging international partnerships
• SDG OUTLOOK – while meeting rapide economic and population growth
• A MODERN AND INTEGRATED AFRICA – in need for JAPAN
• CONCLUDING REMARKS
For the full line-up of speakers, please click here.
Members of the French Chamber in Hong Kong can purchase tickets at members' rate (10,000 JPY or around 740 HKD). To register, please email us.