Ricky Wong from HKTVmall will walk you through the day-to-day complexities of a major e-commerce operation and share best practices to control costs.
It's not all doom and gloom for retail in Hong Kong. Local e-commerce operators HKTVmall posted a net profit of HK$109 million in the first half of 2020, while its total online customers soared 43.6% year-on-year to 813,000 shoppers.
Go behind the scenes of this success story with Ricky Wong, Vice Chairman and Chief Executive Officer of Hong Kong's largest 24-hour online shopping mall HKTVmall, who joins us to speak about how the modern retail model has evolved as well as the challenges and opportunities of the future retail landscape.
Taking a closer look at the day-to-day complexities of a major e-commerce operation and the advances in digitalisation, he will also explain why good supply chain and vendor management has become vital as retail resorts to new technology to control costs.
Key takeaways:
An overview of the development of e-commerce in Hong Kong and the shift from brick and mortar to the one-stop online retail model
HKTVmall's strategies on offline-to-online convergence, driving traffic, customer retention, supplier and product diversity, and inventory management
The focus on changing consumers' behaviour, by enhancing online and offline footprint, rather than imposing a direct challenge to competitors
An outlook to the future retail landscape with big data, open data, and digital wallets
We are delighted to have Luc Moulin, CEO APAC of Linkbynet, moderate the Q&A session.
Speaker: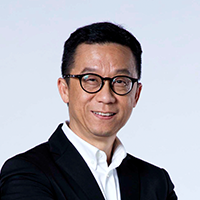 Ricky Wong
Vice Chairman and Chief Executive Officer
Hong Kong Television Network Limited
Wong set up City Telecom to be the first to provide alternative IDD service with call-back technology in Hong Kong in 1992. He subsequently set up Hong Kong Broadband Network Limited (HKBN) in 1999.
After his ventures in telecom, Wong currently leads the Group to explore the development of a new e-commerce business HKTVmall.
Being the largest 24-hour online shopping mall in Hong Kong, HKTVmall works with more than 3,700 merchants and suppliers to offer 400,000 product items to Hong Kong consumers. HKTVmall possesses 5 logistics centres to provide one-stop shop services including online shopping, marketing and promotion, logistics and delivery as well as customer services.
Throughout the years, his life philosophy remains: Making Hong Kong a better place, with technology, innovation and persistence.
Schedule
Tuesday 22 September 2020

| | |
| --- | --- |
| 12:30 | Opening remarks |
| 12:35 | Introduction to HKTVmall |
| 12:40 | Keynote presentation |
| 13:10 | Q&A session |
| 13:30 | Finish |