Join our signature event by professionals for professionals in the luxury sector, this year with a strong focus on digitalisation and China markets!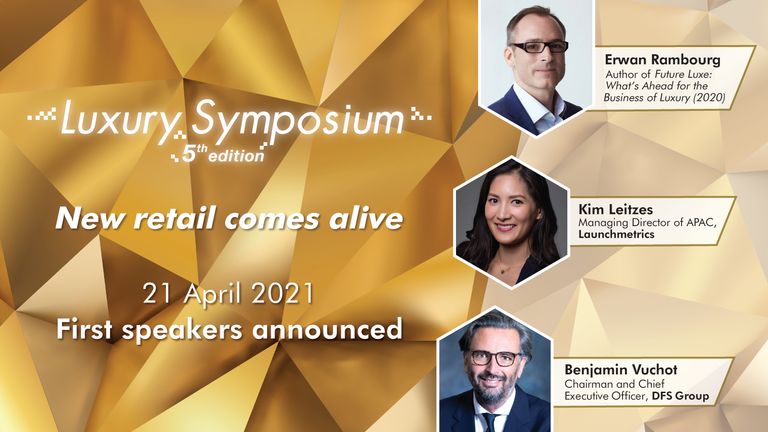 We are excited to announce that we are hosting the 5th edition of Luxury Symposium on 21 April 2021!
Since its inception in 2016, this signature event has been gathering over 200 high-level speakers and participants each year with thought-provoking talks and discussions. This year, we keep this momentum with a new format: a half-day virtual conference welcoming speakers from around the world!
For more information, please visit www.luxurysymposium.com
ALL YOU NEED TO KNOW ABOUT NEW RETAIL
The luxury and retail sector has seen its share of turbulence in the past year. Cut through the noise and equip yourself with the right knowledge from those navigating new retail in 2021.
Join us for answers to these questions and more:
What does it take for brands and retailers to weather the storm through the new retail in Hong Kong and China?
What can we learn from the disruptive and successful e-commerce in China?
What is the Gen Z bringing to the table?
How can we leverage our advantages and integrate with the new markets in Hainan and the Greater Bay Area?
How do we achieve bigger with omnichannel alliances?
NEW FORMAT, NEW VOICES FROM CHINA
As the Luxury Symposium goes virtual, we will be welcoming expert speakers that are leaders and pioneers in the China market.
Register now and join industry professionals from around the world.
More than 15 international speakers
Connect from anywhere you wish with easy access
Unrivalled insights on today's luxury retail agenda
FULL PROGRAMME AND LINE-UP OF SPEAKERS WILL BE ANNOUNCED SHORTLY.
Sponsorship opportunities available. Discover our sponsorship kit!