The Consulate General of France is organising a joint conference with Hong Kong University of Science and Technology to celebrate Paris Agreement.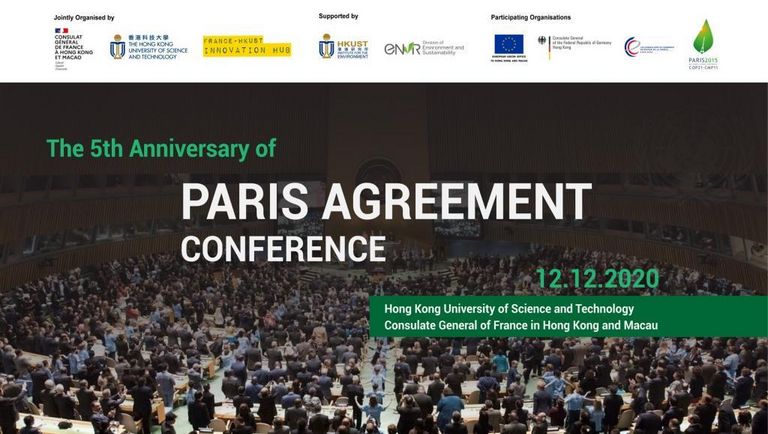 The Consulate General of France in Hong Kong and Macau, along with the Hong Kong University for Science and Technology (HKUST) would like to invite you to follow the conference celebrating the 5th anniversary of the Paris Agreement on Climate Change on Saturday 12th December 2020.

It will be the occasion to take stock of the work done in the past 5 years and to identify common challenges lying ahead. It is also the opportunity to highlight the global priority of fighting climate change even when main international conferences have been postponed.

Echoing the international mobilisation, the Consulate General of France has decided to partner with Hong Kong's Environment Bureau, HKUST as well as with the European Union Office.

Rundown Highlights:
2:30 pm - Opening Remarks by the Secretary for the Environment Mr. WONG Kam-sing, the President of HKUST, the Consul General of France and the Head of the European Union Office to Hong Kong and Macau
3:00 pm – 1st Roundtable: Are we Ready for the Living Building Challenge for a Clean and Sustainable Future?
4:15 pm – 2nd Roundtable: Green Finance: How Can it Help Fight Climate Change?

For complete programme:https://ienv.ust.hk/events/5thAnniversaryParisAgreement
Registration:https://hkust.zoom.us/webinar/register/WN_aWUixWNQQ2Oisy9LQ-tpQA