Companies news
HongKongEcho: Further expansion for Hong Kong's airport despite travel troubles
Hong Kong's airport is experiencing its share of turbulence. Fred Lam says a mammoth expansion is just what's needed to ride out the storm.
A collapse in global travel was not on the agenda in 2016 when construction began on the Hong Kong International Airport's (HKIA) HK$141.5 billion expansion into a Three-runway System. Despite the dire situation – 1.5 million passengers passed through its terminals in 2021, down from 71.5 million in 2019 – Fred Lam is adamant the city will maintain its status as a global and regional aviation hub in the long run.
"We continue to push forward a myriad of development projects to raise the capacity and enhance the functionality of HKIA, with the aim of transforming HKIA from a city airport to an Airport City," says the 62-year-old CEO of Airport Authority Hong Kong (AAHK).
The first milestone will be the expansion into a Three-runway System which Lam explains involves construction that is "tantamount to building a new airport next to the existing one," and the new third runway which is scheduled to be commissioned in 2022. With the new facilities, the airport will be able to handle the projected annual passenger and cargo volume of around 120 million and 10 million tonnes respectively by 2035 – although the impact of the ongoing pandemic is yet to be determined.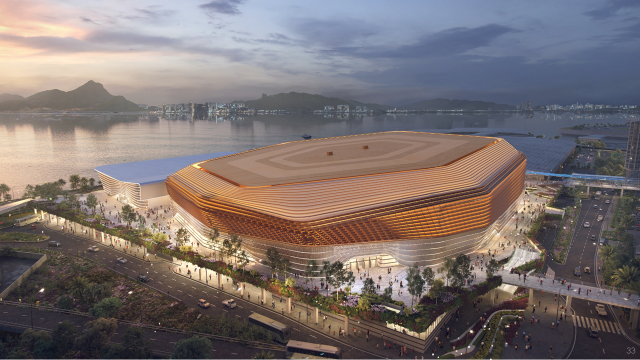 Cargo and connections
HKIA has never faced as much competition from its neighbours as it does today. Guangzhou, Shenzhen, Macau, and Zhuhai all have their own international airports vying for mainland Chinese travellers, while a new international airport is under construction in Foshan.
Connectivity, Lam explains, will be essential. "The key to making it hassle-free for GBA travellers is to enable them to board their flights at HKIA without having to go through Hong Kong's immigration procedures." This is already the case for certain high-speed ferries connecting HKIA to the mainland, but the initiative will be extended to travellers using the Hong-Kong-Zhuhai-Macau Bridge. For business travellers, a new ferry service will link HKIA with Pazhou, Guangzhou, where the Canton Fair is held.
Air cargo handling is also set for a significant enhancement. Hong Kong currently handles 75% of international air cargo within the GBA and has an opportunity to double down on its position, according to Lam. On that note, a new cargo ferry service connecting HKIA with Dongguan by sea will radically change logistics operations.
"These facilities will revolutionise the way HKIA supports sea-air and air-sea transhipments by moving procedures such as customs clearance and security screening upstream to Dongguan, after which mainland exports can be shipped directly by sea to the HKIA restricted area, and vice versa for import," he explains. The new system is expected to halve costs and reduce handling time by one third, according to AAHK's official estimates.
New horizons
While operational capabilities are set to be boosted, it's the SKYCITY development that Lam pinpoints as driving the airport's future development into an 'Airport City'.
A mix of office, hotel, retail, dining, entertainment, and convention and exhibition facilities, SKYCITY is perhaps the iconic airport's most ambitious play yet. Its first hotel opened its doors in December 2021, while the project's centrepiece – 11 SKIES – is set to be unveiled in phases from 2022 to 2025. The New World Development-led venture will be Hong Kong's largest commercial development with a gross floor area of 3.8 million square feet, housing over 800 shops and 120 dining options.
It will feature the world's largest indoor and outdoor karting track alongside grade A offices for companies specialising in wealth management, and wellness and medical services. AsiaWorld-Expo will also get a facelift under the plans, with a new indoor arena featuring the city's largest indoor entertainment venue with 20,000 seats.
While the talk of expansion may take some by surprise given the current state of the travel industry, Lam remains confident about the project's long-term credentials. "We envisage HKIA to be much more than merely a city airport where people take their flights, but a destination in itself for Hong Kong and the Greater Bay Area (GBA), and a growth engine of Hong Kong's economy."