Join this free webinar organised by the leading international law firm Withers about how to safeguard corporate and personal interests in Hong Kong.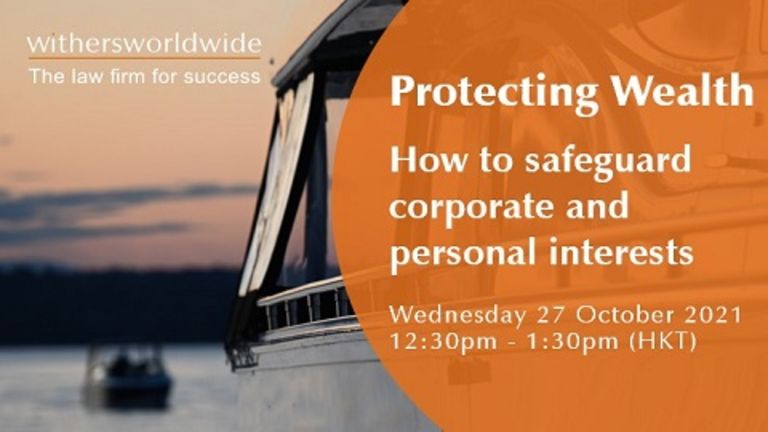 Since 1896, Withers have been trusted advisors to successful people and businesses with complex legal needs, in good times and bad. Withers champion their clients' interests, locally and globally, from offices across Europe, the US and Asia-Pacific. Withers are proud to help many of their clients use their success to make the world a better place.
Do you wish to know what are the potential disputes may arise with third parties without having a proper structuring and contractual arrangement? How to minimise exposure to third party claims against your shares or interests in companies due to a change of your personal circumstances?
Withers is pleased to invite you to a live webinar on Wednesday 27 October 2021 at 12:30 pm (HKT) to learn more about:
Mitigating risks relating to business assets through proper structuring and contractual arrangements - shareholders' agreements, employment agreements, share award schemes and confidentiality undertakings
Protecting personal and business assets in the event of a separation or divorce - nuptial agreements/foreign marriage contracts and cohabitation agreements
The importance of a personal estate plan to preserve assets and interests in life and also on death - wills, trusts and other legal tools
Amongst increasing global uncertainty and instability, this webinar will focus on planning tools and preventative steps that can be taken to minimise risk and disputes in relation to personal wealth. 
Schedule
Wednesday 27 October 2021
12:30
Introduction  
12:35 - 13:10
Start of the webinar
Mitigating risks relating to business assets 
Protecting personal and business assets
The importance of a personal estate plan 
13:15 - 13:30
Q&A session
13:30
End of the webinar
Please register by Monday 25 October. Upon successful registration, you will receive a confirmation email and link to access the webinar on day. 
Withers
Founded in 1896, Withers is a leading international law firm comprising of over 180 partners and more than 1,100 other staff members in 18 offices across Asia, Europe, the United States and the Caribbean. Withers is one of the world's first international law firms dedicated to the business, personal and philanthropic interests of successful people, their businesses, families and advisers. The Hong Kong office offers on-the-ground support in Asia for its international client base.
Today, the firm's multi-cultural team of lawyers and legal professionals offers one of the most comprehensive arrays of client services in relation to UK, US and Hong Kong law. The range of services include: international wills, international tax, estate and succession planning, international trust planning, family (divorce, separation and children arrangements), global immigration and citizenship advice, corporate and commercial, employment, investment funds, litigation and arbitration, real estate.