Companies news • Members
Equiom celebrates success at the WealthBriefingAsia Awards 2018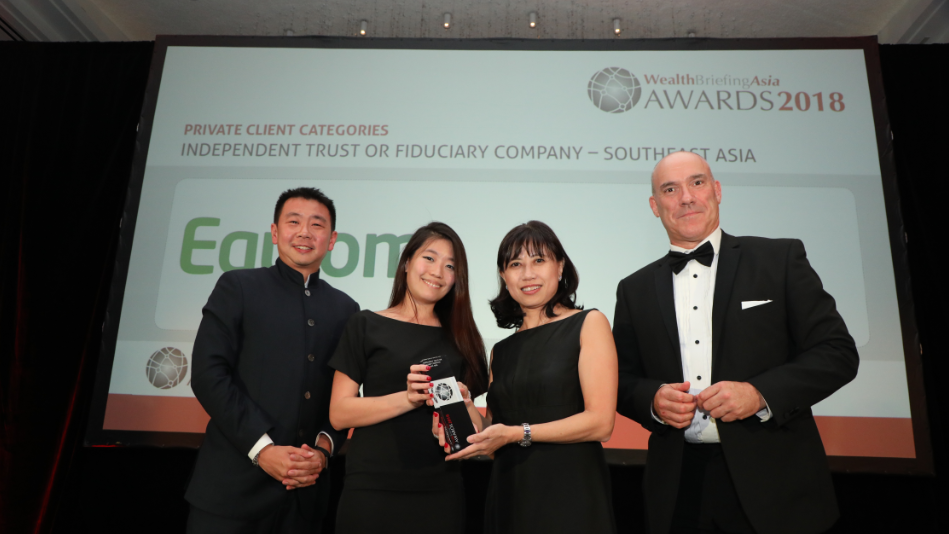 Leading international professional services provider Equiom has been named best Independent Trust Company or Fiduciary – Southeast Asia in the Private Client category at the WealthBriefingAsia Awards 2018. Showcasing the top providers in the global private banking, wealth management and trusted advisor communities, the awards recognise companies, teams and individuals which the panel of judges deemed to have demonstrated innovation and excellence.
The prestigious ceremony was held at the Westin Singapore on 31st May 2018 and attracted over 300 senior banking and wealth management professionals. Among the attendees were Wendy Yeo, Trust Director and Serene Tan, Client Relationship Manager, both from Equiom Singapore.
Jo Andrews, Head of Business Development - Middle East and Asia at Equiom Group commented: "Today marks a milestone in our awards history, having been recognised by WealthBriefing for the very first time. I am immensely proud of the team in Asia for contributing to this outstanding achievement. These awards saw Equiom competing against some of the industry's top names. Our success demonstrates our position as a leader in the sector and our dedication to client service excellence."
WealthBriefingAsia is the Asia-focused daily news and analysis site of the WealthBriefing Network, a news and research platform for the global wealth management sector. The Asia section focuses on developments in the region's banking and wealth management sectors, covering topics including new technologies, cybersecurity, mergers and acquisitions, people moves and compliance and tax issues.