Companies news
HongKongEcho: A dose of data
We've never cared so much about your health. At least from a data perspective, says Dr NT Cheung, who give his prognosis on privacy, patient care, and paperless hospitals.
In nearly 30 years of service at the Hospital Authority, it's safe to say Dr NT Cheung has seen his share of changes. Born and raised in Australia, he recalls his eye-opening welcome to Hong Kong's public hospital body in the early nineties. "There were people here who had never used a mouse before," he says. "Computing-wise, it was very basic."
His corner office on the first floor of the Authority's Kowloon Tong headquarters has become something of a second home, he admits. Family mementos, newspaper clippings, and various awards are scattered throughout the cosy space. A wall-mounted LCD screen acts as an extra-large monitor for the 56-year-old whose full title is the lengthy Head of Information Technology & Health Informatics and Chief Medical Informatics Officer.
Most of the trophies that line the walls are accolades Cheung and his team have picked up for their forward-thinking IT transformation. "The rest are just for bowling," he adds with a laugh. "There are still things we can do better, but the scale of what we have been able to achieve is pretty remarkable."
Before big data
The Authority itself was only formed in 1990, creating a truly centralised public hospital system. Cheung, who is a qualified clinician, joined its fledgling IT department in 1993 at a time when the focus was simply to digitalise the collection of patient data.
"Everything was done on paper. The first priority was to completely change our processes to gather data electronically in order to support the primary care of patients."
Big data was not the buzzword it is today, he says. "That being said, we were already thinking about the secondary use of data for research and management purposes. The work we did in organising and standardising data during that period was actually great preparation for the kind of big data world we're in today."
By the early 2000s, any of the Authority's 6,000 doctors or 25,000-plus nurses could access patient data from across the public system.
This was a milestone for the Clinical Management System (CMS) which today processes 14 million transactions a day from drug prescriptions to radiology images. Through the system doctors are alerted – usually via their allocated iPad – to all manner of issues such as potential drug interactions that may have been overlooked. Such alerts result in an average of 95,000 drug order changes across the course of a year in the city's public hospitals.
"We were quite ahead of our time," he says, explaining that the developments caught the eye of the Government who engaged Cheung's team to work on a platform that would also bridge the gap with the private system.
The result is the Electronic Health Record Sharing System (eHRSS) which was rolled out in 2016 – an opt-in initiative allowing public and private healthcare providers to share and access participating patients' data. "Out footprint keeps getting wider and wider," he says, pointing out that over 4 million Hong Kongers have opted-in to the system to date.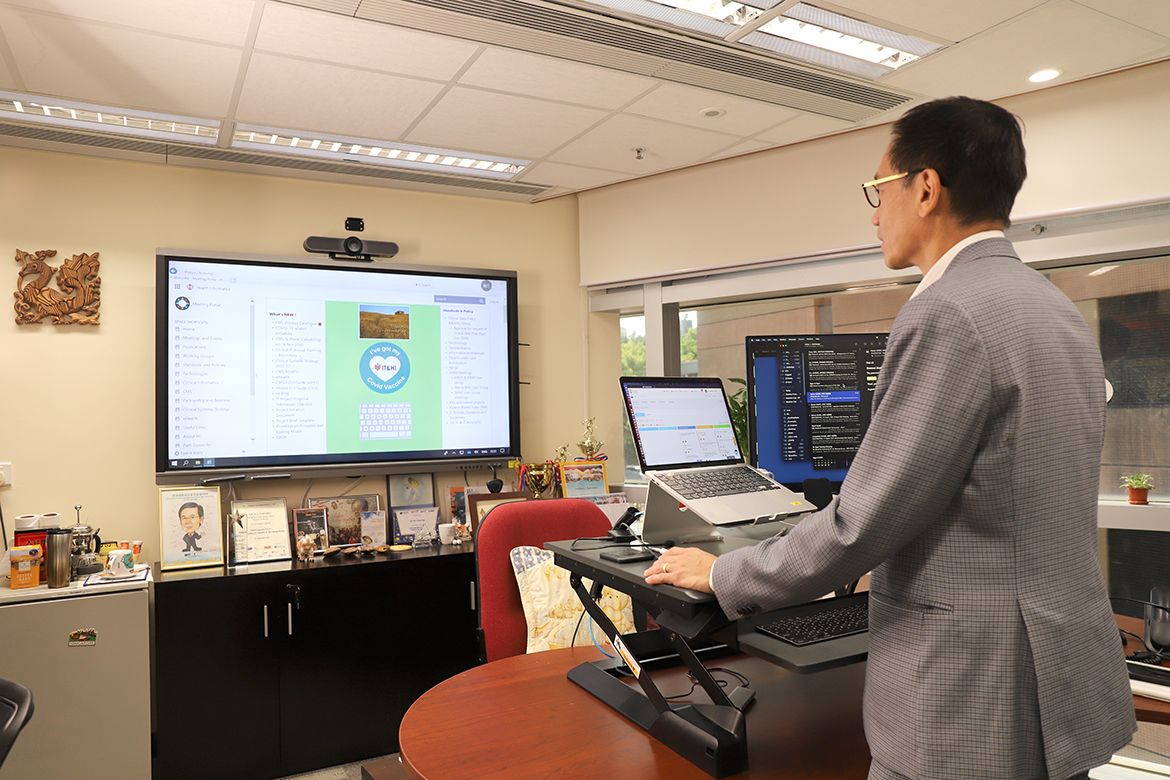 Transparency and tomorrow's hospitals
The past 12 months, Cheung says, have highlighted the need for all-encompassing digital platforms more than ever. Meanwhile QR codes, health declarations, and temperature scans have all become commonplace over the past 12 months – something he doesn't see disappearing any time soon.
As for privacy concerns, he emphasises that questions of patient confidentiality and security of data are nothing new. "There are two parts to it: Firstly, does the person understand what the system is doing with their data and secondly, do they know the risks of what they are giving up."
For example, the eHRSS operates with role-based access control, meaning medical professionals can only view certain parts of patient records depending on their expertise. Likewise, patients can choose to consent to having their records shared for a one-year term or indefinitely depending on their wishes.
In 2018 the Authority launched its Data Collaboration Lab, a facility in Kowloon Bay which allows university researchers working on a valid research topic to work with swathes of patient data. "Security is paramount, which is why we set up our own location to ensure we provide an environment where data can't be compromised and taken off-site," he says.
The concept of a paperless hospital is one project he does hope to see take shape during his stewardship. "Paperless is not necessarily a goal in itself, it's an indicator of how digital we can be. In the past, I hadn't really pushed the idea as I knew there would be too much resistance. Similarly for things like tele-medicine – we're not there yet, but all of sudden we have no choice but to explore it."
On that front, the swift-talking Cheung is keen to emphasise that clinical care must always come first. "It's easy to get side-tracked otherwise," he admits. "We have done great things with artificial intelligence (AI) where we can alert doctors when we think they've got it wrong. But no AI is perfect. More importantly, medical best practices change. You have to remember that computers are not doctors – the AI is only as good as the programmer."