Analyses & Studies • Sectors & markets • Foresight • Publications
HongKongEcho: A look inside China's football factory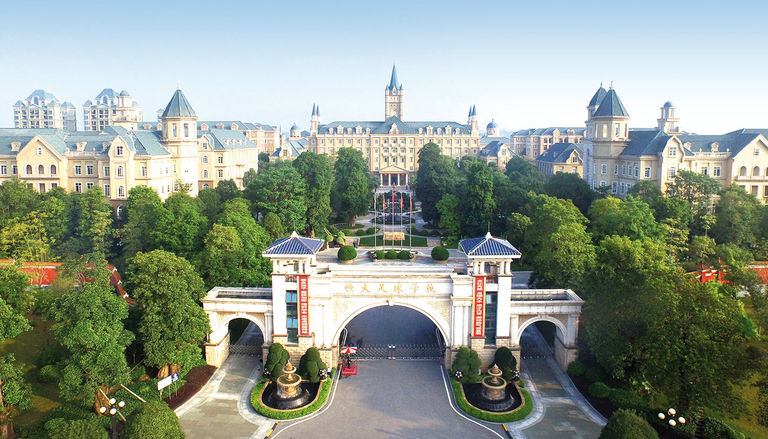 World Cup victory and soft power domination. Those are China's ambitions for football. We visit the world's largest football school, just outside Guangzhou, to see how the country is reshaping the game for generations to come.
It's like something out of a dream. Hogwarts-style European turrets point up to the sky. Small children in their yellow or red training outfits stroll through the perfectly manicured grounds.
We're in Qingyuan – an hour's drive from Guangzhou – at the world's largest football academy. With 2,500 students (roughly 200 of them female, our guide proudly informs us) and 50 football pitches, the area itself covers an astonishing 160 acres. That's about the same size as The Forbidden City in Beijing. Behind the mega-facility is China's most decorated football club Guangzhou Evergrande, who poured a reported US$185 million into its construction in 2012.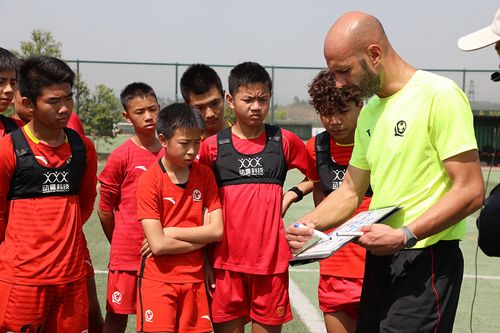 A curious Spanish connection
Today we're watching a training match between the under-13s and under-14s (the younger side takes a 1-0 victory after a dubious penalty). On the sidelines are two Spanish coaches, one for each respective squad. As part of an agreement with Spanish giants Real Madrid, the school is home to 24 Spanish coaches who live on site; shouts of 'tranquilo, tranquilo!' ('keep calm!') from under-13s coach José Artieda are relayed by his translator, so too his halftime instructions to the huddle of players.
The passing is quick, the movement fluid. The players are clearly instructed to embrace the kind of possession-based football that has made Spain world and European champions in the past decade.
"Our kids here are at a good level, but the main difference between China and Europe is that we simply don't have enough young players to choose from here," says José. Originally hailing from Pamplona in his native country's north, he was formerly an academy coach at Spanish club Osasuna and has been part of the school for the past four years. "My first impression was simply 'Wow!' – the scale of the place is incredible," he says, gesturing to the rows of side-by-side football fields that surround us.
It's a sweltering 34 degrees but the players seem nonplussed. "The training becomes a habit and in the end it's not too draining," says Zhang Li, 13, from the Sichuan province. "For sure I'd like to play professionally in Europe, but I know it won't be that easy."
His parents live close enough that he's able to visit them once a week. Like all the students Zhang lives at the school, attending regular classes early in the morning and throughout the afternoon. A skilful midfielder with a low centre of gravity and the right frame to wiggle past defenders – he shyly admits his shooting needs some work – the young prospect is one of the many students on a scholarship financed by the school. Those without such assistance fork out an annual fee of roughly 60,000 yuan (US$9,200).
Once the morning session wraps up, we follow the two teams to lunch at one of the school's four cafeterias where an extensive buffet awaits. We ask a table of eight-year-olds (the school hosts children from ages 7-16) for their favourite club and are greeted by a chorus of "Barça! Barça!" – short for Barcelona. Their favourite player? Messi, obviously.
The business of the round ball
China too would like its own Messi. President Xi Jinping is a known lover of the 'beautiful game' who has made his plans for Chinese football clear. Become a global footballing power by 2050 and host a World Cup on home soil. Oh, and win one too for good measure.
Since such proclamations Chinese investment in football has soared, both at home and abroad (despite a recent and very public clampdown on domestic overspending). In 2017's main transfer window, Chinese clubs spent US$400 million on player transfer fees – a four-fold increase since 2015.
The investments spread much further than the country's own shores. This year's FIFA World Cup in Russia has seen an unprecedented seven Chinese firms enter sponsorship arrangements as Western brands shy away from the troubled governing body of world football's crowning tournament. Chinese firms including Hisense, Dalian Wanda and Vivo are all major sponsors of the event despite the national team's failure to qualify for this year's edition (China has only qualified once, in 2002, losing all its group stage matches).
Making it
"China has always had the money. But now it's starting to look at the structure needed to develop the game with a school like this. That's part of my job here: to build the right football culture," says José. His squad of players will soon be heading to Spain to continue their footballing education for the next two years, allowing them to test themselves against the very best. When they come back they'll be vying for a handful of professional contracts.
"I want to become a professional player and have a career in football," says Lu Junhui, 13, in his dormitory room that he shares with five others of his age. He's just awoken from the short rest allocated to the students after lunch before regular afternoon classes begin.
The décor is basic yet tidy. Two rows of elevated bunkbeds sit back-to-back, each with a studying desk underneath. In the hallway outside are racks of small, colourful football boots. The boys take turns to use the solitary shower and basin attached to the rear of the room to freshen up before class. Rousing but delicate traditional music plays through the speakers to mark the beginning of the afternoon's lessons.
"If there's the opportunity I'd like to play abroad, preferably in Europe," says Lu, who left his parents at the tender age of 11 to join the club after seeing a television advertisement. "But if it's not possible, I'd be happy to play in China." It's a recurrent theme for all the young students we speak to, but the reality is many will not make the grade, even at home.
"We're not expecting to find the next Messi. Developing a football culture is a step-by-step process," explains José. "If one or two of my players goes on to be professional then that's already a success."