Air France is progressively increasing its passenger capacity to Hong Kong as of July, 2020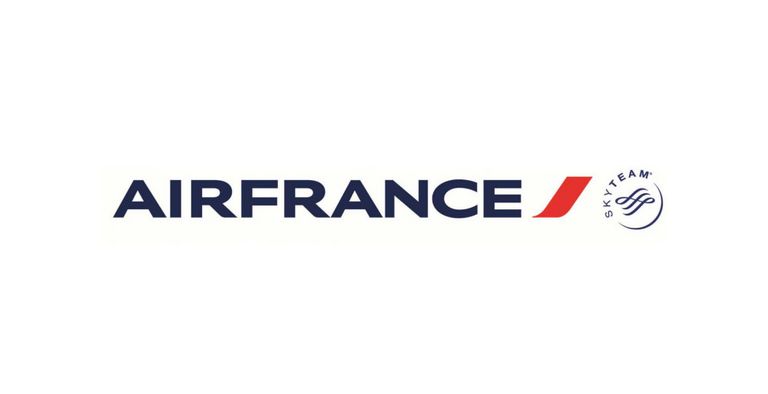 Air France today announced its plan to gradually increase its passenger services to Hong Kong by operating 3 flights* per week in July and 5 flights* per week as of August, 2020. As of June, Air France has resumed 2 flights* per week from Hong Kong (HKG) to Paris (CDG) operated by Boeing 777-300.
Meanwhile, Air France is gradually reinforcing its flight schedule for summer 2020. Subject to the lifting of travel restrictions, the gradual increase in the number of frequencies and destinations will continue, reaching 43% of the flight schedule initially planned in July and 71% in August.
Air France plans to serve close to 150 destinations, i.e. 80% of its usual network Long-haul services will gradually resume on a large part of the network, both for passenger and cargo transport, which is particularly buoyant. The flight schedule will be operated by 106 of the 224 aircraft in the Air France fleet.
"We're delighted to increase our Hong Kong route passenger services in line with market demand. The passenger flying between Hong Kong and Paris will continue to play an important part in connecting HKG travelers to Europe and vice versa. All Air France staff, both on the ground and on board, are committed to guaranteeing our passengers the highest levels of health & safety, and continue to bring best-in-class services to them on our long-haul flights to and from Europe." said Toon Balm, General Manager, Air France KLM, Greater China.
FLIGHT SCHEDULE to/from Paris-Charles de Gaulle to Hong Kong
(From June to August 2020)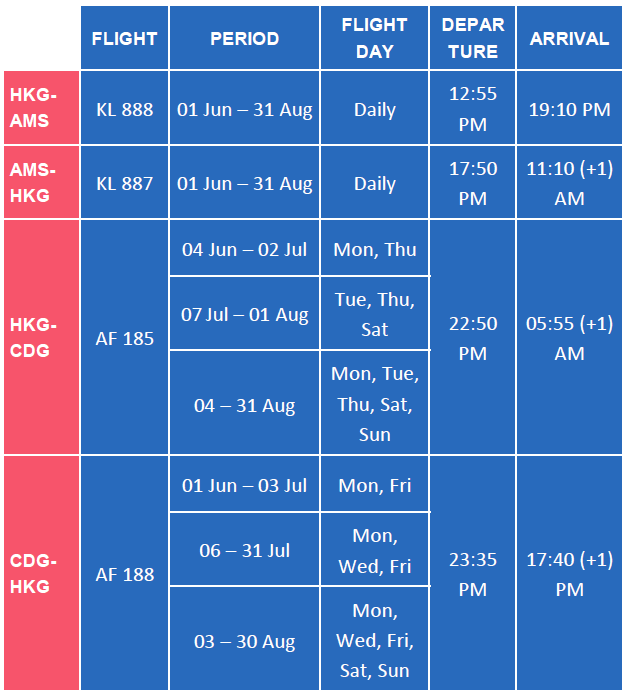 *In view of the constantly changing rules and travel restrictions, the above schedule will be adjusted accordingly.
Prior to travelling, Air France encourages its customers to contact the competent authorities for information on the formalities for entering and residing in their countries of destination and transit, as these are likely to have been modified following the COVID-19 epidemic and additional restrictions regarding entry into the Schengen area remain in force.
Air France Protect, the promise of a safe trip
Temperature checks has been progressively implemented on departure of all Air France operated flights as from 11 May 2020,
Wearing a face mask is compulsory on all its flightsfor all passengers, crew members and agents in contact with customers,
The modification of customer channels on the ground with the implementation of physical distancing along the customer journey at the airport and the installation of Plexiglas protection screens at airports each time when it is possible,
Hand sanitizer available at all contact points throughout the airport (self-service kiosks, baggage drop-off, boarding, etc.),
Our boarding procedures have been reorganized to limit contact on board our aircraft. We therefore first board customers sitting at the back of the aircraft, moving up to those at the front.
Adapting in-flight service to limit interaction between customers and crew members. On domestic flights and short flights in Europe, meal and beverage services have been suspended. On long-haul flights, cabin service is limited and preference is given to individually wrapped products.
The implementation of physical distancing on board where possible. On most flights, the current low load factors make it possible to separate customers as required. In cases where this is not possible, requiring all passengers and crew to wear masks ensures adequate health protection.
The reinforcement of daily aircraft cleaning procedures, with the disinfection of all surfaces in contact with customers such as armrests, tables and screens,
The introduction of a specific procedure for the periodic disinfecting aircraft by spraying an approved virucidal product effective for 10 days,
In addition, the air in the cabin is renewed every 3 minutes. The air recycling system on board Air France aircraft is equipped with "High Efficiency Particulate Air" or HEPA filters, identical to those used in hospital operating theatres.