Bluebell: Anya Hindmarch's I Am A Plastic Bag project launches in Hong Kong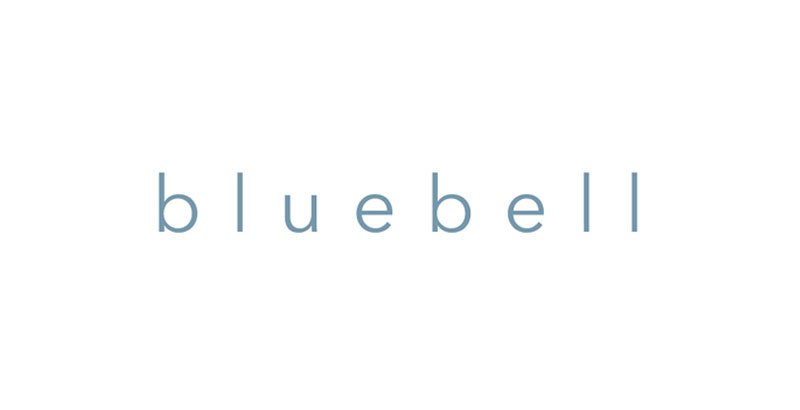 Following on from the I'm Not A Plastic Bag project in 2007, Anya Hindmarch has created I Am A Plastic Bag. Made from an innovative new fabric which is created from recycled plastic bottles and coated with recycled plastic windshields, the collection uses the incredible technology and craftsmanship that is synonymous with the brand.
Instead of doing an event, Anya Hindmarch closed their London stores for three days and filled them with used plastic bottles to make a statement about the amount of plastic that is thrown away. It will take over 90,000 used plastic bottles to fill the stores, which have been collected by Anya Hindmarch team from their local communities. This may sound like a huge number, but this is the number of plastic bottles that are purchased globally every six seconds.
I Am A Plastic Bag in Hong Kong
Anya Hindmarch's Hong Kong Lee Gardens store has activated London's campaign and has partnered with V Cycle to do so in an ecological and environmentally respectful way. V Cycle is a social enterprise dedicated to solve the issues of ecological pollution and poverty in Hong Kong. The Lee Gardens store closed for 2 days from June 23 to 24, filling the space with 15,618 used plastic bottles to raise awareness of this issue locally.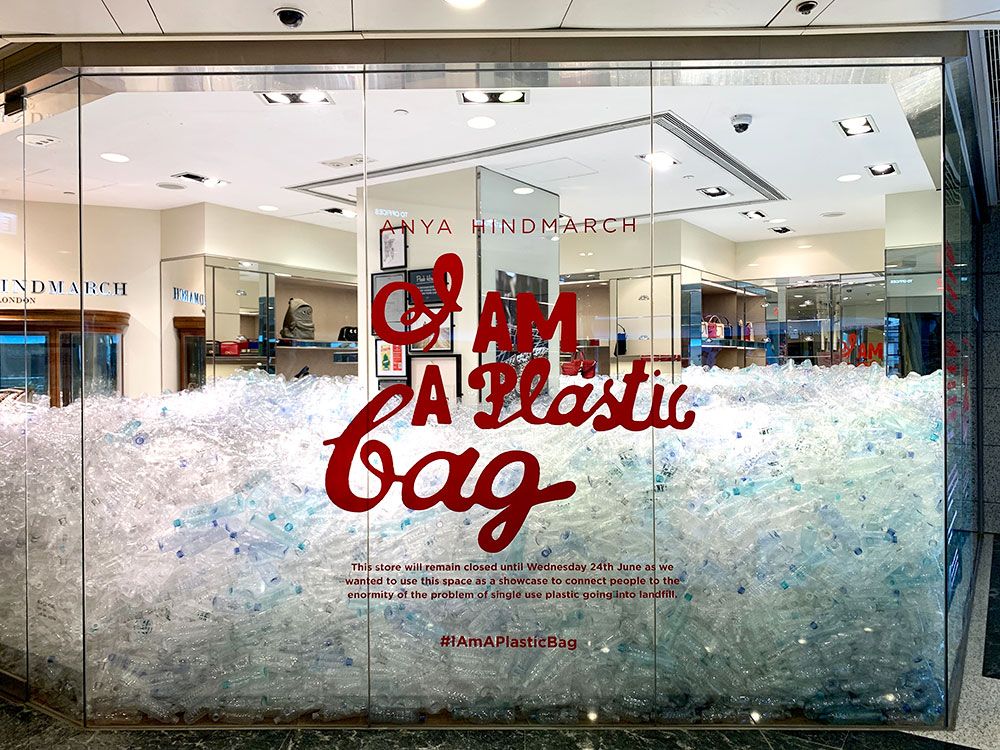 Hong Kong disposes of an average of 5.5 million plastic bottles in landfills every day, and the 15,618 plastic bottles which will be displayed in the store roughly represent the number of plastic bottles we send to landfills every 4 minutes. We hope to use this space to demonstrate the huge ecological and environmental impacts disposable plastics create, and raise consumer awareness towards the importance of waste reduction. (*All the bottles used for this installation will be recycled)
Each region has its own exclusive color for the collection and the one for Hong Kong is in light blue. Our store will also be having two more exclusive totebags embroidered with 'HONG KONG'. The I AM A PLASTIC BAG series is now available for pre-order on May 28th at anyahindmarch.bluebell.com.hk
More about the project
It has taken two years of testing and researching techniques to find the best methods and partners to create the I Am A Plastic Bag Collection. The luxurious, cotton canvas feel fabric used to make I Am A Plastic Bag is woven from a yarn created from the plastic bottles. The plastic bottles are first sorted, shredded, washed and then turned into pellets. These pellets are melted and extruded into fibres that are then spun and woven to create the fabric. It takes 32 x half litre bottles to make each large tote.
To create a weather-resistant durable finish, the fabric is then coated in recycled PVB, a product which is extracted from old car windshields. To our knowledge, this is the first time that this has been done. The coated fabric is made by our partners in Taiwan. who were the only people who could provide the GRS certified recycled coating. Taiwan has one of the most efficient recycling systems in the world and is also a pioneer in recycling innovation.
The bag is trimmed with leather. Whilst the initial plan was to use vegan or recycled leather for the trim, after much research and expert advice, it was concluded that responsibly-sourced leather was the best material as the alternatives contained unacceptably high-levels of polyurethane.
The leather used is a by-product of the meat industry and is sourced from a tannery in Northern Italy close to where the bag is made. The tannery is gold-rated by The Leather Working Group. They use traceable European hides that incur no de-forestation.
This project is about progress not perfection. Work is underway to create the coated fabric in Italy, as soon as we can find a partner who can do this for us using recycled PVB rather than virgin plastic.
And whilst we don't believe that carbon offsetting is the answer, we have partnered with EcoAct - a global climate change consultancy - to measure the emissions associated with the I Am A Plastic Bag collection and to make this a carbon neutral project.
Both the project and the Company have been awarded the Butterfly Mark from Positive Luxury. This is a symbol of trust earned by brands that have adopted sustainability as a business strategy. Brands are assessed holistically across the following areas: governance, social and environmental frameworks, community impact and innovation.