Companies news
Global Millionaire Luxury Report – Resilience And Optimism Ahead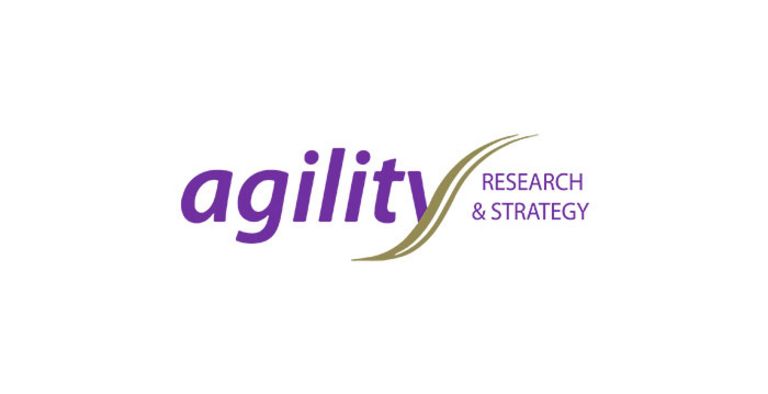 Agility Research & Strategy is excited to release the Agility Global Millionaire Luxury Report for 2021.
Between February and April 2021, Agility Research & Strategy conducted interviews with more than 1,000 millionaires in key global luxury markets, the United States, China, India, United Kingdom, France, Japan and the findings of this study are released and presented today in the Global Millionaire Luxury Report.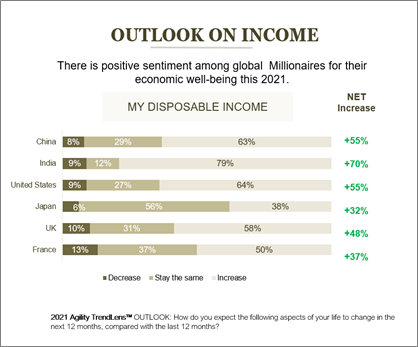 SENTIMENT AND OUTLOOK
Data shows optimistic sentiment for economic well-being among global millionaires. India, China, and United States millionaires have the most positive outlook, followed by millionaires in the UK, France, and Japan.
"This is likely to drive purchases and consumption, our findings show that Indian and Chinese millionaires are planning to significantly increase their spend on luxury products and experiences in the next 6 months" said Amrita Banta, Managing Director.
Beauty and fashion are the categories Chinese millionaires plan to increase spend more. While millionaires in the United States and United Kingdom plan to increase their spending in the travel categories, confirming the revenge spending on travel experience trend our company has been talking about for some time now.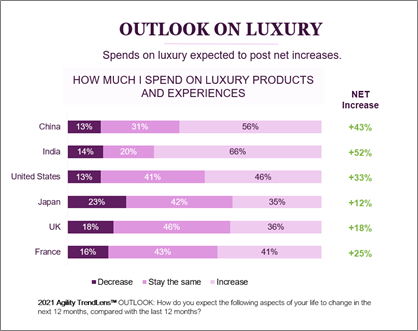 DEFINITION OF LUXURY AND SUSTAINABILITY
The experience of COVID-19 has changed life priorities and expectations for many, and we do see this reflected in the way luxury is defined and understood.
For instance, a female millionaire from New York in her 40s told us that "Luxury now means good health". We do capture this sentiment often in the United States. We also see that luxury continues to be associated to the quality, exclusivity, and price of luxury goods. A male consumer in his retirement from Los Angeles told us that "Luxury means getting the highest quality product of service" he added.
We find a more complex and diverse definition of luxury among Chinese millionaires. A female luxury consumer from Shanghai told us how luxury is associated with her position in society and defined luxury as "a status symbol". Interestingly, along with more traditional definitions of luxury associated with quality, price, and self-reward, we do also capture a linkage between luxury and sustainability. A male luxury consumer in his 30s from Beijing told us that "Luxury means having more environmentally friendly choices".
The sustainability aspect needs careful considerations from luxury brands targeting the Asian consumer. We see that almost 9 out of 10 Chinese millionaires care that the brands they buy are ethically responsible, and they are closely echoed by Indian millionaires in this aspect.
TRAVEL PLANS AND INTERNATIONAL DESTINATIONS
Travel is the most hit sector and there is great expectation of a rebound as travel restrictions are progressively lifted and vaccination reaches widespread coverage.
While international travel continues to be subdued, we find high international travel intentions in the UK and India. Millionaire consumers in China, United States, and especially Japan will prefer to travel more domestically in the 12 months.
For those traveling internationally, the top 3 destinations for Chinese millionaires are Japan, France, and Italy. For American millionaires Italy, United Kingdom, and France. And for British millionaires, France, Spain, and the United States.