HongKongEcho: Better food means better business, according to Green Monday's David Yeung
Your diet is the next battlefield for climate change. David Yeung joins us to talk pork alternatives, the rise of 'flexitarianism', and why Hong Kong is at the heart of his edible empire.
We realise a critical error shortly into our chat with David Yeung: we should have ordered a larger breakfast.
The CEO and Founder of Green Monday proudly presents a plate of his group's signature OmniPork dim sum to the camera ahead of our (keenly awaited) virtual mid-morning meal together.
We've opted for the meat- and dairy-free combination of a 'Beyond' sausage breakfast muffin and hot oat milk tea from one of Yeung's Green Common outlets. The plant-based sausage patty has the kind of meaty funk to it that should please most carnivores, while the tea is on par with anything you might pick up from one of the city's more reputable cha chaan tengs.
Eating alternatively
"People used to look at me like I was speaking some kind of alien language when I would suggest they cut out some meat in their diets," he laughs. A vegetarian for 20 years, Yeung was particularly moved by a United Nations report published in 2006 which detailed the global livestock industry's outsized carbon footprint in the context of a mounting climate crisis.
Today that industry represents around 15% of human-induced carbon dioxide emissions. A diet that incorporates plant-based ingredients, however, is exponentially less polluting than a meat-centric diet.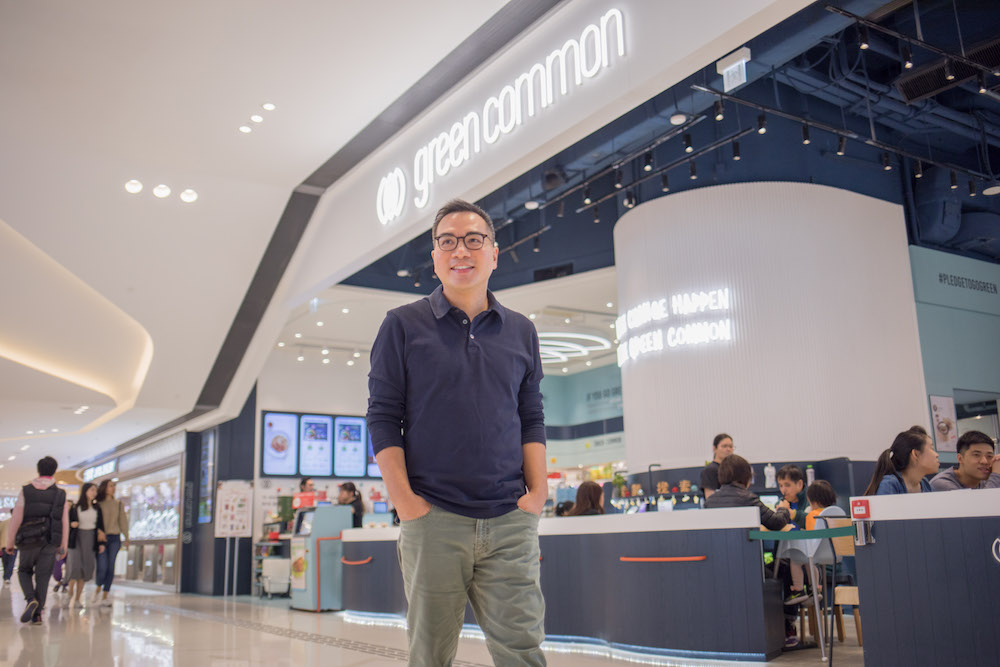 "I became quite disturbed that no one was really talking about this," he says, "so at that point I realised that going vegetarian was no longer simply a personal choice". With the launch of Green Monday in 2012, Yeung set out to drive greater consumption of plant-based alternatives and ultimately curb the impacts of climate change.
"It's true that Hong Kong hardly seems like an ideal place to launch this kind of company," he admits, "but actually the city is quite open to new trends even if it has a poor reputation for sustainability".
The retail-cafe hybrid where we picked up our freshly prepared breakfast items is just one piece in the puzzle. Green Monday also operates a non-profit arm – to educate the wider public – along with a venture capital operation to invest in startups within the sustainability movement.
Its so-called 'FoodTech' innovation brand OmniFoods, meanwhile, is responsible for the explosion of OmniPork products that have hit the shelves in Hong Kong and the wider region.
"The change in both consumer and industry-led awareness has been huge."
"Very early on I knew that sustainability must come with innovation – and innovation means business," he says. "If you want to bring products like these to market and then grow and scale, you can't just rely on donations. So yes, we're a business, but we're also looking to move the needle on the key issues facing our planet today."
The reality is, however, many products in the sustainable and organic food space are out of reach for the purchasing power of many in Hong Kong. Yeung says this is part of the gradual process of bringing such products into the mainstream. "Every innovation goes through different stages in cost, economy of scale, and pricing – whether it be cell phones, computers, or in our case plant-based food alternatives."
Their OmniPork products – he points out – have reduced in price by 25% since the 2018 launch. A quick price check at our local supermarket shows a 200g pack of OmniPork mince will set you back less than the same quantity of regular minced pork.
A taste of what's to come
A lot has changed in recent years. Yeung was pitching Beyond Meat products (one of the startups in which Green Monday Ventures was an early investor) to supermarkets in Hong Kong as recently as 2016. "They basically slammed the doors shut in our faces," he says.
"But the change in both consumer and industry-led awareness has been huge," he confirms. A third-party survey initiated by Green Monday reported that 34% of Hong Kong's population are vegan/vegetarian or 'flexitarian', meaning that they are actively reducing their meat consumption. Eight years ago, when the group launched, that number was only 5%.
The presence of the group's products in over 10 countries in Asia, including the burgeoning mainland Chinese market and the pork-free markets of Indonesia and Malaysia, proves there is a growing appetite for meat alternatives in the region.
Yeung points to environmental and biological catastrophes such as African Swine Flu, the Australian bushfires, and today's COVID-19 pandemic as indicators of the need for drastic change.
"Plant-based foods is just one important factor among many. We need to radically change the way we do business, the way we consume, and the way we live. The issues facing us will not go away – the wakeup call is only getting louder and louder."
---
Editors note: In the weeks following our interview, Yeung and his team announced a landmark collaboration with McDonald's. From October 13, 400 McDonald's outlets across Hong Kong and Macau will offer a selection of 'OmniPork Luncheon' dishes – a plant-based luncheon meat developed by Green Monday's OmniFoods food-tech arm.