HongKongEcho: Brewing across the border
Craft beer made in Shenzhen? Yes, it's happening, and it's catching on fast. We visited Joe Finkenbinder, founder of Shenzhen's first craft beer brand Bionic Brew, to find out how he's come through two forced closures to find his niche in the world's biggest beer market.
When the first incarnation of Bionic Brew's bar & microbrewery was ordered to close by the local Shenzhen authorities, its founder Joe Finkenbinder blacked out the windows and carried on brewing in secret from the late evenings until sunrise. By day he would distribute his creation to bars around the city.
The move to a second location lasted only a couple of months before being shut down in similar fashion. Joe still isn't sure why, but he has his guesses. Setting up your bar behind an unmarked door down an alleyway in a non-typical F&B location might be functional and hip in Brooklyn. But in China, this creates problems.
"The location was not entirely on purpose. Part of it was because we wanted to test the market. Could the product stand on its own?" he says. "A lot of places get away with a mediocre product because of location. We were just about the beer. The reality is that we wouldn't have been shut down if we were in a more mainstream shopping mall location. Here it's a bit more old-school China, you can't just set up wherever you like."
We join Joe for a pint – obviously – at his third taproom in as many years in the gritty Baishizhou village in Shenzhen. A handful of outdoor tables are slowly filling up with the Friday after-work crowd when we arrive. There's a tranquillity to it, at least for now, that you don't expect from a city like Shenzhen. This restaurant-lined strip, he explains, was shown to him by the police as an apparently acceptable location to set up.
The towering American has made an interesting path for himself. A former paratrooper and software business owner, he had a stint at what is now one of Beijing's biggest craft breweries before landing in Shenzhen in April 2014. By July that year, he'd set up Shenzhen's first fully fledged craft brewery with only US$15,000 in funding. Soon afterwards he started the city's only craft beer festival.
With the initial problems behind him, Joe's biggest concern now is simply keeping up with demand – not in the bar itself but with the businesses he supplies across the city.
Cash-flow issues persist and being a small operator means he's not afforded the advantages of 30-60 day payment terms with suppliers that larger operators would have. Logistics remain a costly headache, so too finding bars or restaurants with an appropriate cold-chain setup that can ensure quality. Brewing is a tough game.
From mainstream to microbrews
While China's beer market is the world's largest, it's currently dominated by mainstream lagers brewed for the masses. Consumption is also declining. Craft beer, however, is contentedly bucking this trend. According to figures from analysts GlobalData, consumption of craft beer in China is up by two-thirds over the past five years. The Economist estimates that by 2016 there were 150 craft breweries in the country, up threefold from the previous year.
The figures don't surprise Joe, whose clientele these days is largely Chinese. "People here are more aware of craft beer than ever. They can afford it and they want it, even if they don't particularly know why. When they try, they realise how different it is and the variety of flavours you can have. Generally they're converted fairly quickly," he says.
The kind of experience consumers are looking to associate with craft beer can differ. "I don't think it needs to be served in a wine glass and talked about for 20 minutes. There are lots of people here who want it dressed up and they'll probably go to a different bar, one that sells 'face' – those places aren't really selling the product; beer just happens to be there."
The Hong Kong connection
The proximity to Hong Kong made Shenzhen a logical choice, allowing him to source certain high quality ingredients – directly from Europe or the US – that brewers in places like Beijing have less access to. Still, the experience of creating a specialty product in China is never straightforward. "If I was back in the US and wanted to make a peanut butter stout, I could just buy the right ingredient. Here it's much more complicated. First I'd have to work out how to actually make peanut butter," he says with a laugh.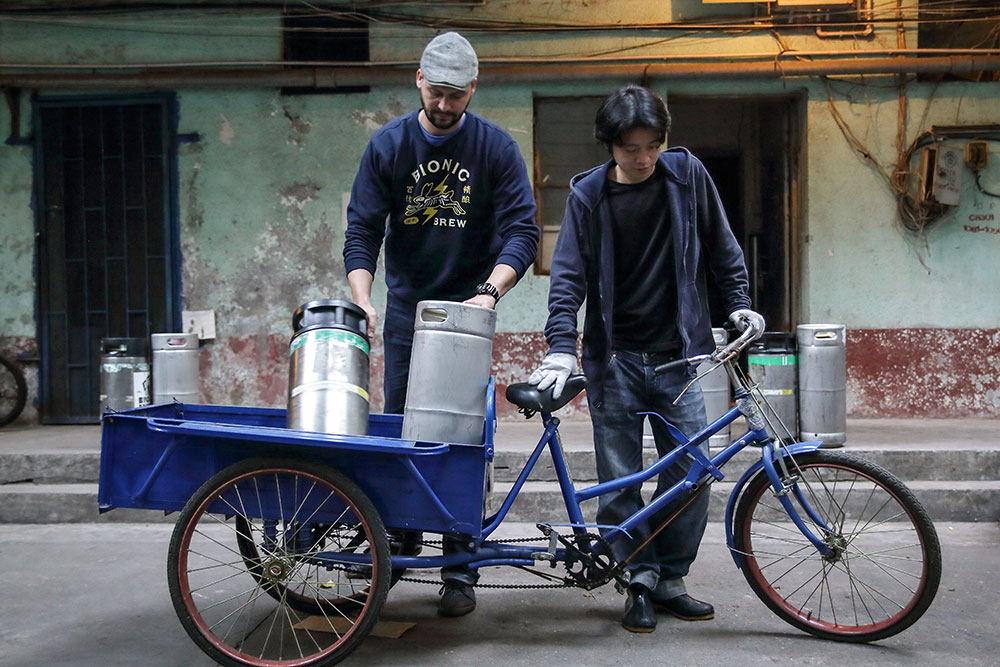 Despite the challenges, Joe doesn't see Hong Kong as an alternative. The company is actually registered in Hong Kong – a decision that should aid investment – but the city's craft beer market is already saturated, he believes. "Besides, we have 100+ million people right next to us in southern China, most of whom aren't potential customers, but a good 10 million or so are."
And while consumers in Hong Kong are often accustomed to craft beer – and actively seek it out – there's still a distrust of products coming from China. "People think because it's made with Chinese water that it can't be good. Of course, we have a full filtering process; there's nothing wrong with the water if you know how to use it. It's just an old mental barrier and it's not going to be bridged by me."
You sense it won't faze him. "It's not good beer for China. It's just good beer," he says. We'll drink to that.