Analyses & Studies • Sectors & markets • Foresight • Publications
HongKongEcho: Changing the art world, one mall at a time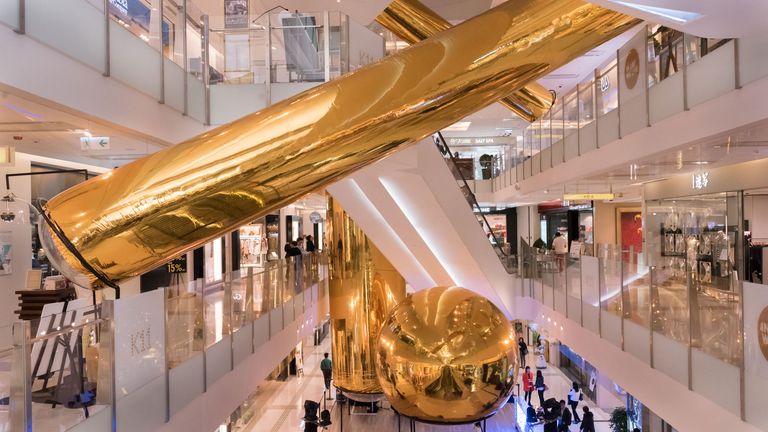 Fancy a peak at the latest hip Chinese artist's mega-installation while you grab a new pair of sneakers? Well, you're in luck. Welcome to K11's art mall concept and a new era of cultural consumption.
---
When K11 launched in Hong Kong as the world's first 'art mall' in 2009, eyebrows would have rightly been raised. Art inside a shopping mall? We'll see how long that lasts.
Since then, it has not only expanded the concept to four cities across mainland China, but also changed the game for how the next generation may consume culture in the years ahead.
In that regard, 39-year-old Founder Adrian Cheng – heir to Chinese real estate behemoth New World Development (NWD) – certainly hasn't lacked ambition.
The original six-story incarnation is a now a mainstay of the Tsim Sha Tsui shopping scene. The latest? K11 MUSEA: said to be the most ambitious museum-retail project under the K11 group which combines world-class experiences in retail, art, culture, entertainment and gastronomy under one roof – scheduled for opening in the third quarter of 2019 right on the shores of Victoria Harbour along the newly renovated Avenue of Stars.
More than a mall? K11's art mall concept is pushing art to the masses, but sales remain key.
Linking up with the other seaside developments including the (also newly-renovated) Hong Kong Museum of Art and the West Kowloon Cultural District, K11 MUSEA hopes to play its own role in the re-shaping of Kowloon's harbourfront as a cultural hotspot.
Beyond the mall
"What Adrian aims to do is cultivate interest in contemporary Chinese culture," says Rebecca Woo, Senior Director, Operation (Hong Kong) at K11 Concepts Limited. She's been on board at K11 since 2013 having previous spent nearly 20 years in NWD's classic retail mall arm – New World Department Store – "a very different world," she admits.
"For a lot of people, art is not always very accessible or understandable." The solution is what she refers to as Cheng's vision of "art for the masses". But it's about more than simply hanging artworks in a mall.
Rebecca Woo, Senior Director, Operation (Hong Kong)
at K11 Concepts Limited
That 'contemporary' culture Cheng refers to is as much about the art as the way it's presented, says Rebecca. Exhibitions which create interaction through digital formats, for one, are central to this. So are the games and integrated photo opportunities for those with a penchant for Instagramming their every waking moment. Meanwhile a year-round offering of art-specific events to stimulate the space includes a programme of talks and concerts. "The point is there has to actually be engagement between the art and those who visit the mall."
As for the art itself, K11's art team collaborates with the pure operations side of the business; themes or topics are decided before the team reaches out to artists – largely local – to explore the curation possibilities.
But sales remain important – it's a mall after all. "We merge exhibitions with the whole customer experience. That goes right from the marketing campaigns to customer service. It's also about pushing products for our tenants which means we talk to them in advance of our themed exhibitions to see how they can be relevant to what's on display whether it's designing specific products or creating an adapted F&B offering."
Many of those tenants include the usual suspects of mega malls. But themed zones within the mall like K11 Design Store, K11 Beauty, K11 Select and K11 Natural provide an avenue for more quirky and obscure brands to muscle in on the action.
Millennial mania
K11's target base? Well, you don't need to be a marketing aficionado to connect the dots.
Millennials are firmly in its crosshairs with the group labelled as "prominent drivers of global consumption," wielding a spending power set to reach US$6 trillion by 2020 in an official press release for the upcoming K11 MUSEA.
One of the mall's current exhibitions is actually the third in a series explicitly called 'ME: MILLENNIALS SERIES 3.0: ME TIME'. But it's an interest in art and culture, or at least a desire to learn more about it, which defines K11's audience according to Rebecca.
If it wasn't seen on Instagram, did it even happen at all?
That audience likewise tends to be local. "Tourists generally visit the city for a short amount of time with very long shopping lists. That's not what we're focusing on. We're tapping into a young local audience who are interested in expressing their character – which is why we want to create that hard-to-replicate personal experience through their interaction with art and our cultural programmes."
Of course they're not the only ones using art and culture to do so. Gimmicks to attract footfall are nothing new but the difference is a consistency in strategy, says Rebecca. Where other malls will use art one month and a celebrity meet-and-greet another, K11 has nailed their niche by focusing purely on an art and culture offering.
"Often generating footfall is not that difficult. Whether it's sustainable and whether it's your target audience who returns each time is another question."
That hasn't always been an easy sell. "I come from a world which is purely about sales per square foot. In the beginning it was difficult to get the message across to retailers that art could actually drive sales. But over time we've been able to show that our consistency draws the right footfall and ultimately conversion can be increased."
---
The Foundation behind the frenzy
The K11 Art Foundation (KAF) – founded by Adrian Cheng in 2010 – is a non-profit organisation promoting contemporary art and fostering arts appreciation. With a specific focus on Chinese contemporary art, it has presented over 60 solo and groups exhibitions featuring works of emerging Chinese artists in different parts of the world. Notable artist's solo exhibitions organised by KAF include Cheng Ran: Diary of a Madman at New Museum in New York, Tianzhuo Chen at Palais de Tokyo in Paris, and Zhang Ding: Enter the Dragon at the Institute of Contemporary Arts in London.
Collaborations with internationally known institutions such as MoMA PS1 (where Cheng is now a board member) have amplified Chinese artists' exposure on the international art scene and placed KAF at the forefront of the development of Chinese contemporary art.
---