Analyses & Studies • Sectors & markets • Foresight • Publications
HongKongEcho: FinTech, frankly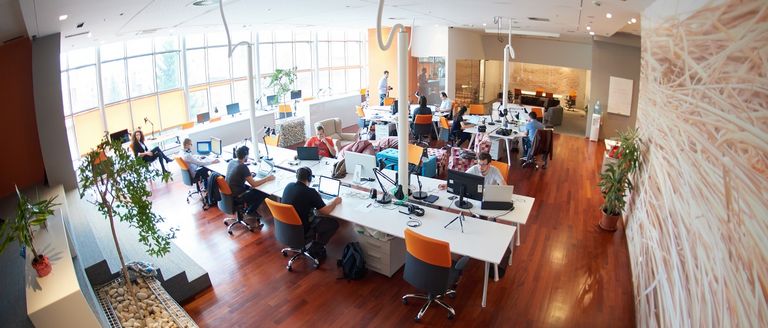 The F-word. It's promised a lot. Paradigm shifts, re-imagined financial systems, blockchains upon blockchains. But Hong Kong's FinTech ecosystem is more than a pipedream, says Charles d'Haussy, Head of FinTech at InvestHK.
---
HongKongEcho: FinTech seems to pop up in every conversation about finance in Hong Kong, but what are we actually talking about beyond the buzzwords?
Charles d'Haussy: When we talk about FinTech in Hong Kong, we mostly talk about the B2B ecosystem as opposed to the B2C kind of ecosystem that is so predominant in mainland China.
The reason Hong Kong's ecosystem has developed that way is largely because we're talking about a city that is the number three global financial hub in the world with 159 banks, 157 insurance companies, several hundred stockbrokers and – to top it off – the world's most competitive economy. Combine this with very little in the way of regulation and an overall free market economy and you're left with the right environment for FinTech to flourish. It's important that the government is there to facilitate, not to interfere with the private sector as you may see in other jurisdictions.
In terms of pure numbers, Hong Kong has seen the highest level of investment by venture capitalists in FinTech worldwide (excluding the mainland market) at US$545 million according to a 2017 study by Accenture.
Beyond that, you can divide FinTech in Hong Kong into six main subsections: cybersecurity, blockchain for enterprises, InsurTech, WealthTech, RegTech and CrediTech.
Cybersecurity is a real priority because FinTech is finance and finance is all about trust. Whenever cybersecurity is compromised, you damage the trust. So it's important we keep Hong Kong's financial industry safe.
HKE: What's the typical role of traditional financial institutions in this evolution? Are they threatened or welcoming it with open arms?
CH: The narrative has changed a lot. Two years ago the narrative was that FinTech would lead the world and banks would die out. Now, not just in Hong Kong but worldwide, the discussion has shifted to how the banks will collaborate with FinTech players to keep their leading market positions.
Proof of this is that in Hong Kong we have five FinTech accelerators, which are for growth stage companies who want to accelerate in the market. That's more than most financial capitals worldwide. Who's funding them? It's the banks, investment funds and venture capitalists. That shows it's not just lip service, the banks are really getting involved positively.
What's also interesting in that space is the rise of services or payment apps which aren't technically banks but which give the user experience of a bank. This is why the mobile phone wallet licence was introduced in 2016, for example.
HKE: The Hong Kong Monetary Authority's (HKMA) recent virtual banking licence regulations should also provide users with more options for their financial needs. What have you made of the announcement?
CH: I think it's the right step forward and the market is welcoming it very well. All eyes will be on the new banks who, under this licence, won't need physical branches to operate. Their biggest challenge will be customer acquisition and retention. It will be interesting to see what kind of customers they will attract and why. But we shouldn't forget about the existing banks who will most likely get involved also.
HKE: There has been some commentary that these licences are over-restrictive and that the price of entry is too high. Are those comments accurate?
CH: I think we shouldn't forget that when you're a bank you represent a systemic risk for the economy. So for different types of banking licences it's important to manage risk according to the use. For example the mobile phone wallets have specific storage limits and that's a way of controlling risk to Hong Kong's economy which, after all, relies strongly on financial services.
But ultimately the goal of the regulators is to push innovation while also protecting the users. They're not looking to open the market up for anyone and everyone.
That being said, my feeling is that you will see a similar pattern to the way the mobile phone wallets were introduced. On that occasion we saw licences given out to technology companies, telecom companies, mobility companies and banks. I think we'll see a similar situation with the virtual banks. It will be very much open to new players.
HKE: Are there other government initiatives coming up that we should keep an eye out for?
CH: September will be exceptionally busy. First with the issuing of virtual banking licences. Secondly we'll soon see a common QR code regulation introduced which will ensure that codes used by all payment apps will be uniform, making it easier for shops and users alike to pay efficiently and with ease.
Another major initiative is the blockchain trade finance platform across Hong Kong banks. The HKMA, working with seven major banks, are completely revamping the trade finance workflow within banks. Today it's very costly and time consuming for banks to help SMEs with their trading and activity. The result is those SMEs suffer. By taking this paper-intensive process online onto the blockchain, it means any requisite documents will move between banks effortlessly as way of validating an SME's trade.
Next year, as part of an agreement we signed during last year's Hong Kong FinTech week, this platform will be connected with the equivalent trade finance blockchain in Singapore.
Finally, fast payments are set to be introduced in September also and will be a real game-changer. Anyone in Hong Kong will be able to move money instantly and free of charge between all banks as well as all mobile phone wallets in Hong Kong.
HKE: You mentioned that announcement as part of last year's FinTech week – this year's edition is just on the horizon, what's the purpose of the event?
CH: The Hong Kong FinTech week presented by InvestHK is now in its third year and we've been doubling our numbers every year. This year we have 8,000 sqm at the Hong Kong Convention Centre to welcome 8,000 attendees with 100+ companies exhibiting and three stages for talks. The idea is to host a large-scale networking and education event. Our aim is to bring overseas companies to Hong Kong to meet with potential customers while simultaneously stimulating the FinTech ecosystem here.
This will also be the first time that we'll host a cross-border FinTech week. The event will finish in Shenzhen as part of our desire to align with the government's strategic objective of nourishing the connections within the Greater Bay Area. FinTech startups visiting Hong Kong for the week will be able to really experience the opportunity the city offers you to easily access the enormous market just across the border.
HKE: Greater Bay Area is one thing but perhaps the even bigger point of interest for Hong Kong is the Belt and Road initiative. What's FinTech's role in positioning the city within this initiative?
CH: Firstly, the Greater Bay Area is a fantastic medium-term case study for Hong Kong where we must reshape our companies and our mentalities to make the most of the initiative and prepare the city for the business opportunities of Belt and Road.
If you look at the roughly 100 countries along the Belt and Road, most of them have very nascent financial services infrastructure. Hong Kong will be a great place to raise funds and to have a legal base whether you're a Chinese or international firm. The key fundamentals are already there: stable regulations, low tax rates, a trusted financial centre, rule of law and English-language prowess.
FinTech will simply be the enabler for Hong Kong to continue doing what it does best.