Analyses & Studies • Sectors & markets • Foresight • Publications
HongKongEcho: How GOGOVAN co-founder Steven Lam went from dropout to delivery dynamo
When Steven Lam failed yet another sitting of Hong Kong's public high school exam, his father said he would be better off joining him as a construction worker.
"We had a lot of disagreements around that time," admits Lam, whose game-changing delivery platform GOGOVAN became Hong Kong's first unicorn as a startup with a valuation of over US$1 billion. "My dad basically told me: 'I can't teach you how to be a good kid anymore,'" he recalls.
It's hard to imagine from the polite and witty 34-year-old CEO as he joins us by video connection on a gloomy Hong Kong afternoon.
After all, few Hong Kong entrepreneurs have made this decade their own as much as Lam and his co-founders with their now ubiquitous GOGOVAN stickers slapped across delivery vehicles throughout Hong Kong, Singapore, South Korea, Taiwan, India, and over 300 cities in mainland China.
From Kowloon to college
In 2005 Lam's father, exasperated, scraped together enough money to send him to the United States on a one-way ticket to live with his uncle in Los Angeles – "and about US$20 in pocket money," Lam adds.
"I was totally fascinated by the place," he says. Not wanting to burden his uncle, he soon moved out to the San Francisco East Bay Area to live on his own and work as a deliveryman for a Chinese restaurant.
He enrolled in a community college – a lower level of tertiary education – and set out to improve his English. To pay tuition, he regularly worked 12-hour shifts while still attending classes from six in the morning.
"Being on my own and having to work hard for everything totally changed my mentality towards life. All I wanted was to earn enough to survive, go to school, and make sure my car didn't break down on the freeway while I was delivering food."
He excelled and was eventually admitted to the University of California, Berkeley, as a business major.
Working at the Chinese restaurant alone couldn't pay for the prestigious institution. Lam became increasingly entrepreneurial, selling everything from refurbished bicycles to classmates, iPhones on eBay, and even hotdogs in the school's car park.
Many of the schemes were devised during the hours he spent with Nick Tang and Reeve Kwan, two other young Hong Kong students working at the same restaurant. "We connected straight away. Coming from similarly modest backgrounds – that's why we were working as delivery guys in the first place – we were always just looking to make ends meet."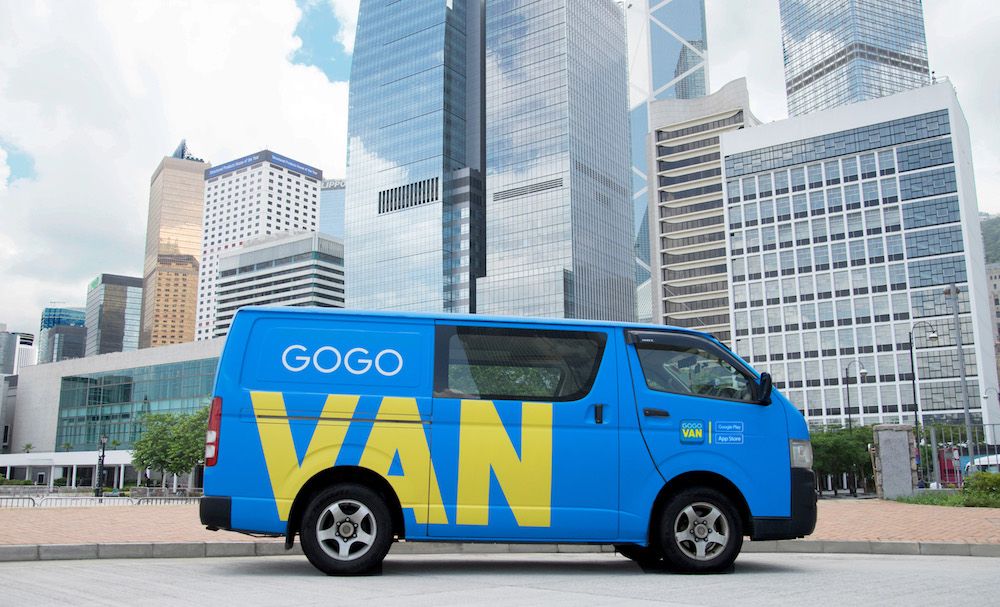 By 2010 they had moved back to Hong Kong, where Lam spent months looking for work to no avail in part due to his self-confessed poor performance in job interviews.
The trio continued to meet up and talk business ideas, before deciding on one close to home. Inspired by the thousands of bland takeaway boxes they had seen over the years, they launched a startup selling advertising space on the boxes and ensuring their delivery.
The operation was hectic. Within nine months, a handful of daily deliveries had become 100,000. As orders poured in, Lam and his team phoned in delivery requests to call centres who would then contact drivers over a radio frequency system with little to no visibility on expected delivery times.
They soon began to circumvent the archaic and unreliable approach, creating WhatsApp chat groups with the drivers directly. It was a stop-gap solution as, at the time, the groups were limited to only 10 participants.
Their frustrations led them to creating GOGOVAN in 2013 as a platform to streamline the delivery booking process. With only HK$20,000 behind them and no tech background, they came close to folding on several occasions in their first year – a last-minute HK$100,000 loan from a Cyberport micro-financing programme ultimately saved them, he says.
What's next
"I think I can answer the Kobe Bryant question: 'Have you seen Los Angeles at 4am?'" he says, referring to the basketball legend's famed quote about his gruelling training schedule. "It was quite normal for us to work till three or four in the morning and sleep in the office until six and start over again."
Despite achieving rapid success – Lam and his team struggled to find investors. "No one in Hong Kong wanted to invest because they felt the market was just too small to make a return." They had to look outside the city, to a Singaporean angel investor, who felt the model would translate easily to the small island state.
But it would be the team's mainland expansion that would earn them the enviable unicorn status. After a US$10 million investment from social media company Renren in 2015 which helped them set up in eight mainland Chinese cities, GOGOVAN merged with China-based 58 Suyun (another logistics platform) making it Hong Kong's first US$1 billion startup.
Never short of a soundbite, he has previously referred to himself as the bottleneck of the company. "Sometimes the growth is just too fast. But I'm just like anyone in the team – if I can't keep up, I need to look at myself and ask what I can do better to make sure I don't slow us down."
The basketball-mad Lam still only sleeps a few hours a night and tries to hit the court with his colleagues once a week. He says the relationship with his co-founders hasn't changed since their delivery days, although the scale of their work is getting more complicated.
When thinking of the future, Lam wants to avoid growth for the sake of growth. "At the heart of our original vision for simplifying logistics was the empowerment of our drivers. Right now I don't think we're necessarily doing the best job. What sort of insurance options can we offer? How can we take better care of them?"
With over eight million drivers registered globally, that may prove to be the biggest promise yet for Lam and his team to deliver.