INAUGURAL FIS ALUMNI TROPHY CEREMONY – THE WINNER IS SONALIE FIGUEIRAS!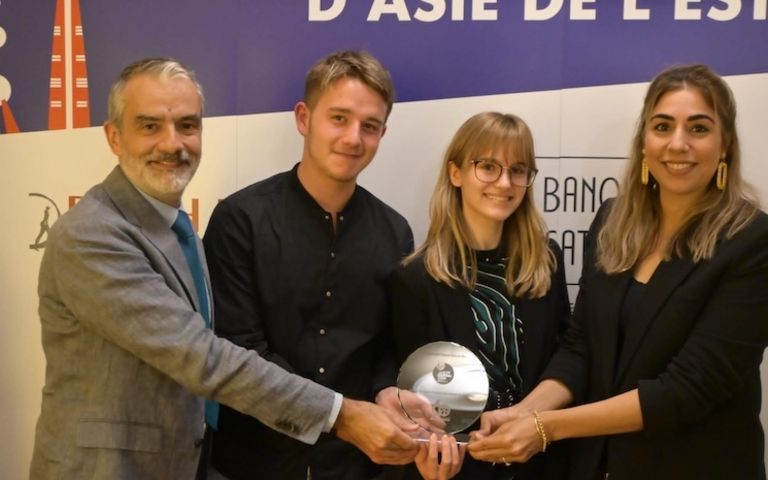 It is with great pleasure and pride that our Head of School, Dr. Emmanuel Bonin presented the inaugural FIS Alumni Trophy to the winner Sonalie Figueiras, chosen by the panel of judges among the finalists of this category. "This 3rd Awards Ceremony of the French Abroad in Hong Kong is also the first one representing East Asia including Japan, Greater China and Korea. Of the 52 applications received, 25 finalists and 6 winners were chosen. They came to the French Residence on Thursday, 16th February to receive their trophy during a ceremony that was also followed live on Facebook," said Didier Pujol, editor-in-chief of Le Petit Journal, who officiated at the ceremony.
Sonalie Figueiras, who attended the FIS from 1985-1996 (from kindergarten to the end of middle school) is an entrepreneur, she created greenqueen.com.hk, a leading online media in the field of biodiversity, environmental protection and sustainable development that is disseminated and recognised throughout the APAC region. She is known for her activism, speaking at numerous influential groups and international conferences. She also runs Source Green, a climate technology platform that helps brands reduce plastic waste. Her academic and practical research and articles are now also translated and distributed by Le Petit Journal editions in Hong Kong, Dubai, Valencia, Johannesburg, Tokyo and Singapore.
If you have attended FIS during your school life, or know some FIS Alumni established in Hong Kong, please contact Romy Serfaty, Director of Marketing & Communications (rserfaty@g.lfis.edu.hk), we will be happy to include you in some upcoming FIS Community events!