Schneider Electric Spearheads Collaboration for a More Digital and Electric World at the Innovation Summit Hong Kong 2022
Last month, Schneider Electric successfully hosted sustainability-focused dialogues during its Innovation Summit Hong Kong 2022. Through keynotes, executive talks, panel discussions, and expert learning sessions, over 500 industry leaders, partners, customers and colleagues learned how digitization and electrification can drive business resilience as well as shape a carbon-neutral Hong Kong. They also had the opportunity to explore Schneider Electric's latest digital solutions.
For Schneider Electric, shaping a more digital and electric world is the way forward amid the growing global energy and environmental challenges.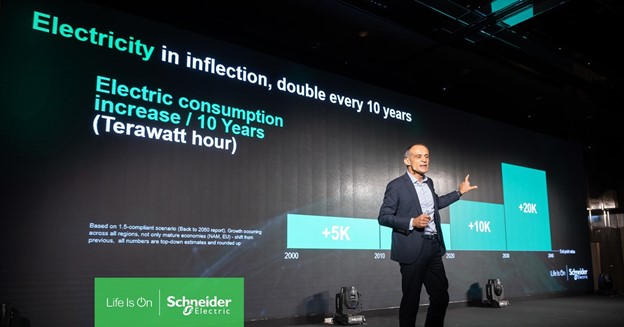 Schneider Electric Chairman & CEO Jean-Pascal TRICOIRE opened the conversation on the value of "digitization + electrification". In his global keynote, he explained how this equation can help companies maintain sustainable business operations today and in the future.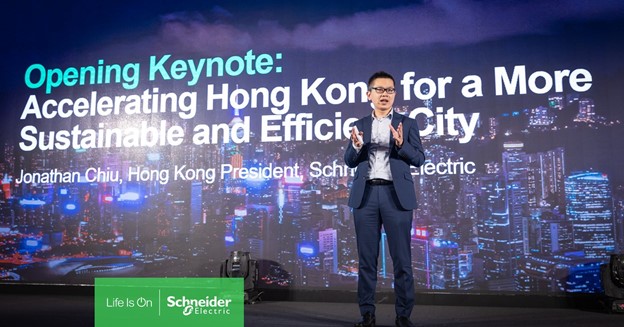 Schneider Electric Hong Kong President Jonathan CHIU also prompted businesses to work together in leveraging digital energy to drive sustainability and efficiency for Hong Kong. He shared the city's sustainability landscape and practical insights for achieving its net-zero goals.
Building on these climate-positive solutions, Schneider Electric's Executive Vice President – Secure Power Division Pankaj SHARMA expounded on the concept of "Electricity 4.0" and discussed how creating green and smart energy, particularly for data centers, can accelerate our transition to a more sustainable business economy.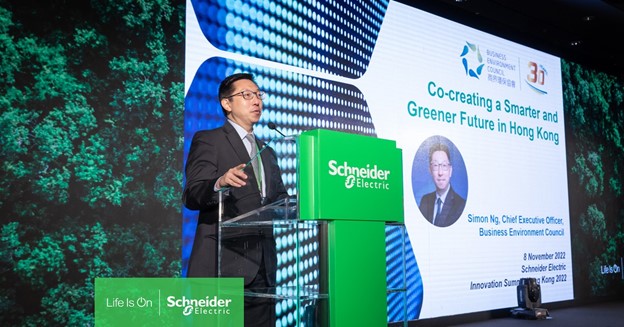 Business Environment Council CEO Simon NG also added to the event's list of digital transformation pointers in his guest keynote, presenting preliminary results from their latest sustainability research, and sharing different corporate approaches for realizing a smarter, low-carbon Hong Kong.
To offer more concrete examples on how businesses are supporting Hong Kong's 2050 decarbonization targets, Schneider Electric also invited local industry leaders for an all-star CEO Panel. Attendees heard from Cally CHAN, General Manager of Microsoft Hong Kong and Macau, T K CHIANG, Managing Director of CLP Power Hong Kong, Donald CHOI, Executive Director & CEO of Chinachem Group, and Laurent PELLETIER, CEO of Veolia Hong Kong.
The event also zeroed in on digital innovations that are transforming buildings and data centers during its two expert learning sessions.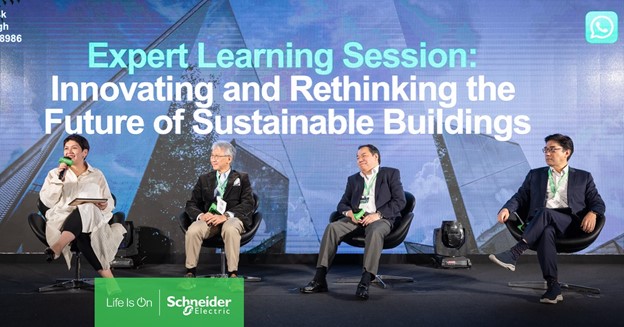 Joining the session on creating sustainable and people-centric buildings were Cary CHAN, Executive Director of the Hong Kong Green Building Council, Anthony PAU, Deputy Director (Head of Group Service Delivery) of Hang Lung Properties, and Raymond YAU, General Manager, Technical Services & Sustainable Development of Swire Properties.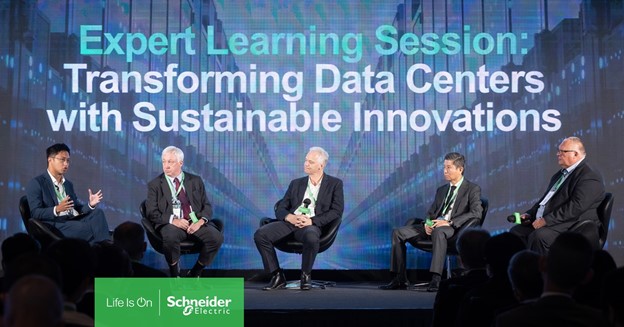 Participants also gained insights for efficiently designing and running digitized data centers from Paul EVANS, Executive Director – E&M & Chief Technology Officer of Gammon, Brian GROEN, President, APAC of Vantage Data Centers, Eric SIN, Executive Director, Project Management, China Region of WSP, and Andrew SYLVESTER, Head of Sales – International & Greater China Regions, EcoStruxure IT Line of Business, Secure Power of Schneider Electric.
Finally, during the Tech Talk session, Schneider Electric presented their latest best-in-class digital solutions for buildings, data centers and industries, designed to empower sustainability for their customers and partners in Hong Kong and worldwide.