Technology Vision 2023: When Atoms Meet Bits: The Foundations of Our New Reality.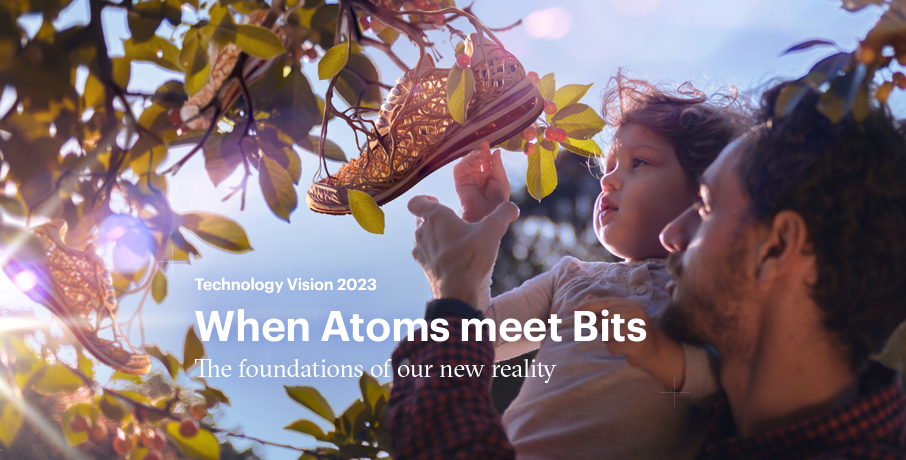 Report explores how technology will transform the way people work and live
Accenture unveils generative AI center of excellence for clients and partners
New research from Accenture finds that generative AI and other rapidly evolving technologies are ushering in a bold new future for business as physical and digital worlds become inextricably linked.
The Accenture Technology Vision 2023, "When Atoms Meet Bits: The Foundations of Our New Reality," explores the technology trends underpinning the convergence of the physical and digital, as businesses look to accelerate enterprise reinvention in the here and now.
Accenture's Technology Vision 2023 identifies four trends that are key to unlocking this new shared reality:
Generative AI: Advancing human capability as a co-pilot, creative partner or advisor, nearly all executives agree that generative AI will spark significant creativity and innovation (98%) and usher in a new era of enterprise intelligence (95%).
Digital identity: Ability to authenticate digital users and assets—the foundation for traversing digital and physical worlds—is now seen by 85% of executives as a strategic business imperative, not just a technical issue.
My data, your data, our data: AI cannot reach its full potential until companies figure out data. That means breaking down data silos and modernizing their data foundations. In fact, 90% of executives believe data is becoming a key competitive differentiator within organizations and across industries.
Our forever frontier: Feedback loop between science and technology is getting faster, with each accelerating the advancement of the other, in ways that 75% of respondents believe could begin to unlock the world's grand challenges.

About the Research
For the Technology Vision 2023 report, "When Atoms Meet Bits: The Foundations of Our New Reality," Accenture gathered input from an external advisory board of more than two dozen practitioners spanning public and private sector, academia, venture capital and entrepreneurial companies. In parallel, Accenture Research conducted a global survey of 4,777 C-level executives and directors across 34 countries and 25 industries. The survey was fielded between December 2022 and January 2023.
Read the full report here.