Analyses & Studies • Sectors & markets • Foresight • Publications
HongKongEcho: From little things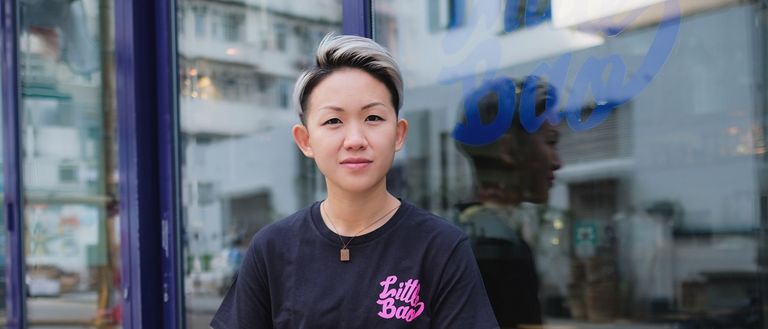 "I was very worried that I was a one-hit wonder," confides May Chow. Going from chef to restaurant owner, she's seen that cooking great food – on its own – isn't enough. We join her to talk business acumen, pigeon claws, and everything in-between.
---
The shutter is halfway down on the discreet doorway leading to May Chow's latest venture, Happy Paradise. It's midday – there's no lunch service here – and we creep through to the first-floor restaurant which is perched over the intersection of Hollywood Road and Staunton Street in the heart of Soho.
May is sat at one of the high-tables; a brilliant streak of silver through her short black hair seems entirely fitting for the palette of deep purple, sky blue and turquoise which punctuates the interior.
The space, illuminated by a broad beam of sunlight, is enveloped in the strange ephemeral charm of a restaurant sans patrons. By night, however, this place will be a neon playground; shimmering, playful, alive.
Beginnings
"I knew from the beginning of my career that I wanted not only to be a chef, but to run my own restaurant," she says, recalling the sight of her mother cooking nightly meals for 20-or-so members of her extended family in Canada – where she was born and raised.
It wasn't a path easily smiled upon by her parents, despite her father himself being an entrepreneur. "They didn't really understand it. For them it wasn't a career at all," she explains.
"I think I wasn't –" she corrects herself, straightforward as ever, "No, I definitely was not a good worker when I was younger. I was quite rebellious and I wasn't at all interested in working for someone else".
However, things began to click under the influential tutelage of two of Hong Kong's most forward-thinking chefs, Alvin Leung of Bo Innovation and, in particular, Matt Abergel of stylish Sheung Wan hangout Yardbird from 2010-2012.
"Matt was the first chef who fully resonated with me on both a professional and personal level. He succeeded in infusing all aspects of his life and personality into his restaurant, creating something truly unique."
This continues to inform the way she thinks about executing her concepts. "I want to be globally competitive. That's another thing Matt taught me – never compete with the guy next door. If you're going to do something, make sure it's the best in the world."
The first steps
When she was offered a stall at a farmer's market one Sunday afternoon in 2013, May wanted to cook something out of the norm. While bao buns had become trendy in other parts of the world, they were relatively unchartered territory for Hong Kong. This became the backbone item of her first restaurant, Little Bao, which opened the same year.
The cosy twenty-seat eatery is now a staple of Soho's dining scene. "I went into that project very naïve. Prior to that I was just a chef – and never even an executive chef," says the 33-year-old.
"You can no longer live in a bubble. It doesn't matter if you're doing an amazing job in the kitchen; you need to take an interest in all aspects of the business from front-of-house to costing. Ultimately, you better care about it because nobody else will do it for you."
Little Bao boomed. But it left her wondering would be next. "I was very worried that I was a one-hit wonder," she says.
The answer came in 2016 when she teamed up with the founders of Hong Kong brewery Young Master Ales to open Second Draft, a Chinese gastropub in Tai Hang.
"It was great working with those guys because they're so talented. But I also realised that I need to have full control of my project, not just the kitchen. It reminded me that I'm not only a chef; I want to be responsible for the full package, that's the difference."
The latest challenge
With this in mind, she set about opening Happy Paradise in early 2017.
"In hindsight it looks like a financial mistake. Any normal business person would have just opened a second Little Bao. But your ego starts to grow and you gain confidence – I wanted to create something that was uniquely me."
The ambitious menu and décor didn't win over clientele so easily, she admits. "We were bleeding money in those first six months. If you want to be purely creative, Hong Kong is not an easy place."
Pig brains and pigeons with claws attached are still found on a menu that has seen more than a handful of changes. She's confident the original character remains largely intact. "We've achieved something that wouldn't have happened if we were more business savvy – if I was smarter I wouldn't have started this restaurant."
They're strong words from the chef who acknowledges that being a female in this sector can be a lonely place. "Restaurants were always built for men, by men. When I go into a restaurant's kitchen, the tables are too high for me, the chef jackets are too large or the knife is slightly too big because those are the 'standard' sizes. How are women supposed to succeed in that environment?"
She sees part of her responsibility, now, as a business owner and Asia's Best Female Chef (2017) to change the systems that have traditionally excluded or minimised female contributions to cuisine.
"As a basic example, a lot of women still go into pastry because people tell them it's easier. I remember the first few jobs I applied for in a high-intensity main kitchen – they asked me if I'd like to start with pastry instead. If I was a 200-pound man, would they have offered me the same thing?"
This article originally appeared in HongKongEcho 88 - The Trailblazers